SEAS Weekly 1.24.22
Jump to:
Engineering Activities | Penn Activities | Scholarships | Paid/Unpaid Opportunities
---
Academic Integrity Reminder
Please remember that all students are obligated to follow the Code of Academic Integrity. As noted, "If a student is unsure whether his action(s) constitute a violation of the Code of Academic Integrity, then it is that student's responsibility to consult with the instructor to clarify any ambiguities
---
Words to think about this week
"Not knowing is not shameful, not asking is." – Turkish Proverb
---
Highlights for the Week

Penn Engineering Student Learning and Engagement (PESTLE): The goal of PESTLE is to provide an opportunity for all Penn Engineering students to engage with the Philadelphia community.  There are multiple opportunities for engagement, whether they are one-time service events or ongoing commitments, student organization activities, school initiatives, or university partnerships with local community centers.  Learn more at https://pestle.seas.upenn.edu/
Access Tutoring Services through Weingarten Center!  Weekly Tutoring is available as well as Satellite Drop-In Tutoring.  Please see more details via linked flyer below or visit https://wlrc.vpul.upenn.edu
Higher Education Emergency Relief Funds (HEERF) are available as direct grants to students with financial need and on student public health initiatives related to COVID-19. Find out more here: https://srfs.upenn.edu/heerf
Integrity Matters:

As we return to campus we invite all members of the Penn community to affirm their commitment to  integrity, honesty and academic excellence. We are invested in adhering to the tenets

of Academic Integrity both in the classroom and in our own private domains. We value the experience of learning as an opportunity to better ourselves, our community,  and the world around us. We strive to work hard in order to earn our successes while also learning from our failures. As we launch a campaign to raise awareness about  Academic Integrity, we—faculty, staff, and students alike—vow to partner together in communicating our mutual expectations and in fostering a shared sense of responsibility and support for each other. We, the Penn community, believe that integrity matters.
Student Health and CAPS Are Available for Students Remember to call first!

In-Person Visits

Monday through Friday, 9:30a – 1:30p

Telehealth (phone or videoconferencing)

Monday through Friday, 9:30a – 4:30p

After-hours

On-Call Clinician for Urgent Issues (SHS): 215-746-3535, Option 3
24/7 Access to a Clinician (CAPS): 215-898-7021, Option 1
---
Important Dates:
| | |
| --- | --- |
| Date | Event |
| January 25 | Course Selection ends |
| February 21 | Drop Period ends |
| Spring Term Break | March 5-13 |
---
Engineering Activities
Announcements:
HathiTrust ETAS Deactivation (January 23, 2022)

Please note:
Library stacks are open for browsing. For daily hours  and additional information for patrons, please see the return-to-campus FAQ on the Penn Libraries website.
Faculty, students, and staff may request items in our physical collections through Pickup @Penn and Books By Mail. Students may also request items through our College House Delivery service.
All members of the Penn Community may request digital delivery of book chapters and individual articles in our collections.
Librarians will work with faculty to ensure that course reserve materials are available in either digital or print format throughout the semester.
Penn Engineering Community Engagement Program - Introduction to PESTLE (Monday, January 17, 2022 & Wednesday, January 26, 2022)

Penn Engineering is launching a new Community Engagement program! All attendees will receive Penn Engineering swag when we are in person.  Details below to join us the meeting below:

Topic: Introduction to PESTLE

Time:  Monday, January 17 at 2PM OR Wednesday,  January 26 at 2PM Easter Time (US and Canada)

Join Zoom Meeting
https://upenn.zoom.us/j/99300712426
Meeting ID: 993 0071 2426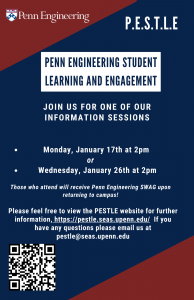 Learn more about PESTLE here: https://pestle.seas.upenn.edu/

Reach us via email here: pestle@seas.upenn.edu.

TU Dortmund International Summer Program (ISP) 2022 (Application Deadline: February 15, 2022)

Located in the Ruhr region in Germany, TU Dortmund's Summer Program offers three tracks to choose from: Engineering, German & European Studies, Entrepreneurship. In addition to the three tracks, students also have the ability to engage in a Research Project with a Dortmund professor. All courses are offered in English.

Dates: May 26 – July 29, 2022

Eligibility: Sophomore or Junior standing

GPA: 2.5 minimum

Application deadline: February 15

Visit the TU Dortmund ISP website for more information: https://international.tu-dortmund.de/en/incomings/international-summer-program-isp/

Please email Greta Kazenski (kazenski@upenn.edu) for nomination instructions and any further questions.

Message from Office of the Chaplain - Observing Holidays

Students may observe these holidays in a range of ways that might impact their schedules including fasting,  attending services, and abstaining from work. Of note this year we recognize that the busy last few weeks of our Spring semester will include Ramadan (4/2-5/2), Easter (4/15-4/17), and Passover (4/15-4/23).

The attached 2022 calendar and University policy text can also be found on our website. The full text of the policy is also available in the Pennbook. We will be working with our campus religious communities to share this information with students in January.

As a reminder, University policy states that "no examinations may be given, and no assigned work may be required" on certain holidays. In 2022 no exams or assignments may be required on the  following dates: 
| | | | |
| --- | --- | --- | --- |
| Date | Day | Holiday | Tradition |
| 4/15/22 | Fri | Good Friday | Christian |
| 4/15/22-4/23/22* | Fri-Sat (9 days) | Passover | Jewish |
| No exams or assigned work may be required from the evening of 4/15 through 4/17 | | | |
| 9/25/22-9/27/22* | Sun-Tues | Rosh Hashanah | Jewish |
| 10/4/22-10/5/22* | Tues-Wed | Yom Kippur | Jewish |
| 12/25/22 | Sun | Christmas | Christian |
Students may also request alternative arrangements for any other holiday of importance to them in accordance with section 3 of the policy. The attached calendar is not exhaustive but provides the dates of many such holidays. Our office is always available as a resource should questions arise. Thank you for your consideration and best wishes for the year to come. 

Register Now for Spring 2022 Master in Law Courses

GRIP Program: Summer 2022! (Deadline: January 12, 2022 & January 27, 2022)

We have exciting news, GRIP has officially launched for Summer 2022!

We have some great opportunities listed for SEAS students, including the Engineering Research in Singapore program (part of our NUS exchange) and the Engineering Research in Aachen program (part of our RWTH Aachen exchange). Please note that there are two application deadlines. Applications for research placements are due January 12th and applications for internships are due January 27th.

For more information, please visit https://global.upenn.edu/pennabroad/grip

EDAB Coffee Chats Signup Now!

The Engineering Deans' Advisory Board (EDAB) is a student board that works directly with deans and faculty to implement initiatives that enrich the learning and welfare of engineers.

Pair up with a current EDAB member to discuss all things related to our work, life on campus and just hang out!

EDAB Coffee Chat Signup form is available here: https://forms.gle/1Q6gNDcSrnVdjdC97

Check us out through our website: https://www.edabpenn.com/ 

The MBA Fund - Fall 2021 Recruiting - APPLY NOW!

The MBA Fund invests primarily at the pre-seed/seed stage in companies with founders from the Stanford, Harvard, and UPenn ecosystems. In the last year, we've backed >30 startups, many of which have gone on to raise capital from top funds (e.g., Sequoia, Accel, Lightspeed, Founders Fund, YC).Our LPs include both founders (Doordash, Trulia, etc.) and VC firms (like Crosslink, NFX, Contour, Bessemer, and others). We're also imminently closing a fresh multi-million dollar dedicated fund!

We're looking for new Campus Investment Partners to join our Penn/Wharton team! This is a great way to get meaningful VC experience across sourcing, diligence, and execution – especially for those with ambitions to break into or continue within the industry (can attest the MBA Fund was instrumental in my own recruiting process!) Please find additional detail on the application form linked HERE; we will be interviewing candidates on a rolling basis.

Tutoring Sign up - Spring 22
This term, to help get tutors out to students more quickly, we have opened all intake processes this week instead of week two, which has been the norm in the past
That means that any students who have already used our services can visit our website at any time to request a tutor as early as today
Additionally, we will be hosting several (virtual) drop-in options for new students to register for a weekly tutor (flier attached)

Friday 1/14
Tues Jan 18
Thurs Jan 20th

We may add additional drop in times as we move forward and appointments will also be available in the My WC portal.
Drop in hours will begin (virtually) next week and most will shift to in person in a few weeks
We are still hiring tutors for several courses including – Nurs 163/165, OIDD 101, Econ 002 and others posted on our website
Register to vote!

Register to vote! Encourage others to participate in the democratic process!

Penn Engineering is in a friendly competition with the other UG Schools in how many Penn Engineers will participate in the Motivote voter drive. You can register to vote and take other actions to earn points. Not a citizen? No problem. You can still earn points for the School!

Participants should first sign up at http://upenn.motivote.us and then can join the Engineering Team: Undergraduate https://upenn.motivote.us/t/penn-engineering-1/overview/
---
Penn Activities
Career Industry & Networking Series | Data Analytics
Wednesday, January 26 at 7 PM ET

Register Today!
Join Penn Alumni and partners for the virtual Career Industry & Networking Series on Wednesday, January 26 at 7 PM ET, focused on Data Analytics! For the past two years, organizations and employees have had to pivot to different ways of thinking about and doing business. Tracking and understanding trends in the ways people are working, spending their time and money, and preparing for the future have become vital in shaping strategy and culture.  Now more than ever, Data Analytics has become the key to drive productivity, efficiency, and revenue growth in every type of industry. Join our discussion with alumni professionals in the Data Analytics field to learn more about how the field is changing and evolving to respond to our ever-rapidly changing trends in business, healthcare, technology, manufacturing, government, and beyond. Join us!

Program Host:
Ashley Clarke, W23 (she/her), Co-President, Wharton Analytics Fellows & Member, Wharton Customer Analytics Student Advisory Board

Panelists:

Shomik Sarkar, C12, (he/him), Senior Officer, Business Intelligence & Analytics, The Pew Charitable Trusts
Catherine Griffin, LPS08, (she/her), Founder, ImpactableX Analytics
Sajjad Jaffer, WG01, (he/him), Head of Data, Analytics and Machine Learning, GrowthCurve Capital and ex co-founder Two Six Capital

Penn Libraries is now hiring students in a variety of roles. Daytime, evening, and weekend hours are available at library locations across campus.

Sunday Check-In Series

On behalf of the Penn Engineering Communications Team, I'd like to invite you to participate in our "Sunday Check-In" series.

Our Sunday Check-In project is about catching up with students, staff and faculty across our School. Here's the link to a Google form with several questions. If you have any questions or concerns, feel free to reach out at ebonej@seas.upenn.edu. Thanks so much for participating!

Wellness at Penn presents: I SHARE: Connection, Healing, and Hop

Wellness at Penn launched a video this semester called I SHARE: Connection, Healing, and Hope about the power of sharing and ways to get support for students experiencing stress, distress, or crisis. We would love to have student feedback!

It's easy: just WRITE, WATCH & WIN!

WRITE: write in your responses to a 2-minute I SHARE Survey.

WATCH: watch an awesome video by Penn students (video link provided at the end of the survey)

WIN: win a prize raffle by completing one final survey! (portable electronics, smartwatch, yoga kit, and more!)

Students can learn more about I SHARE on Instagram @WellnessAtPenn.

Penn Leads the Vote (PLTV)!

Penn Leads the Vote encourages you to make updating your registration part of your back-to-campus to-do list.

Right now: take two minutes to update your voter registration address or register for the first time online. Live in a College House? Make sure you specify your mailing address and residential address, learn more here.

Visit us at our new website for more information – https://vote.upenn.edu

Opportunities to get involved:

We are looking for students, faculty, and staff to join us in making Penn a more civically engaged campus.

Consider joining us through one of the following opportunities (ordered from least to most commitment):
Volunteer: This is a high impact, low commitment opportunity for those who want to multiply your impact. Volunteers receive free PLTV swag and get priority access to events like National Voter Registration Day.
Fellowships: If you are looking for a longer, more professionally-oriented opportunity to support voting and civic engagement on campus, a fellowship is for you! Fellows work closely with PLTV staff to complete high impact projects over the course of the semester.
Paid Positions: PLTV is hiring an undergraduate partnerships coordinator and diversity and inclusion coordinator. These are paid positions open to students who are passionate about civic engagement and are able to commit 10 hours a week for the remainder of the year. Learn more on our website.
---
Scholarships
SUBJ: Funding opportunities for hi-tech projects & ventures – APPLICATIONS OPEN (January 28, 2022)

Looking for funding for your tech project or venture?

Penn Engineering is pleased to offer funding opportunities for high-tech project and venture development. We are soliciting proposals for projects and venture concepts that might develop into companies, and these funds are available to help:

·  Berkman Opportunity Fund ($500 or $1,000 per project)
The Berkman Opportunity Fund provides support for students (or teams of students) with innovative ideas that might turn into products and companies. Click HERE to apply

·  Miller Innovation Fellowship ($15,000 per venture)
Miller Innovation Fellowships are designed to allow students (or teams of students) that have made use of Penn's innovation & entrepreneurship resources to further develop ventures based on high-tech products & services and to have focused capital and advising resources to explore a venture.  If you have previously participated in and received funding from other Penn programs (e.g., iCorps, Penn Wharton Innovation Fund, Weiss Tech Fund, Venture Initiation Program Accelerator), click HERE to apply

Applications are now open and the application deadline is 11:59 PM EDT on Friday, January 28, 2022

Contact Angela Busichio, Administrative Coordinator for Engineering Entrepreneurship, with any questions: busichio@seas.upenn.edu.

Apply today!

Udall Scholarships (February 7, 2022)

The Udall Foundation awards scholarships to university sophomores and juniors (US Citizens, US Nationals, and Permanent Residents) dedicated to leadership and public service in either of two areas:

Scholars attend a 5-day summer conference in Arizona and gain access to an active network. Scholarships can be applied toward tuition, fees, books, and room and board (up to a maximum of $7,000), and Scholars are eligible for one year of scholarship support.

The application deadline to be considered for Penn's nomination is February 7, 2022. Interested students should contact Dr. Angie Estévez at CURF for access to the online application system and for Udall Scholarship advising. A sample application is available here.

James Dyson Award

James Dyson Award.

What is the James Dyson Award?

The James Dyson Award is an international design award that celebrates, encourages, and inspires the next generation of design engineers. The challenge is simple: design something that solves a problem.

Who can enter?

It is open to current university students of engineering, product design, and industrial design – and those who have graduated in these subjects in the last four years. We'll ask to see official documentation that proves it.

What can you win?

Students that enter have the opportunity to win $2,500 as a national winner and $35,000 as an international winner, along with a donation of $6,000 to the departments that supported them. New this year! We will offer an additional $35,000 prize for the sustainability award winner, which is the best entry that addresses an environmental issue. The award not only provides an opportunity for students to commercialize their ideas through funding, it also provides an international media platform and exposure which has allowed previous winners such as MarinaTex, a home compostable material designed as an alternative single-use plastic film, to develop into businesses. Be sure to also check out our US National Winner, Thipok Cholsaipant, who is the inventor of Aerolyze, the world's first breath glucometer for prediabetics. By replacing blood with a breath, the design eliminates the pain and inconvenience of pricking your finger altogether.

Learn more about the James Dyson Award here: https://www.jamesdysonaward.org/en-us/home/ 

Dept. of Defense (DoD) Science, Mathematics and Research for Transformation (SMART) Scholarship

The Department of Defense (DoD) SMART Scholarship-for-Service Program is a combined educational and workforce development opportunity for STEM students.

For more information and the application process please visit DoD – SMART Scholarship 
---
Paid/Unpaid Opportunities
The Summer Penn/Case Internship (DEADLINE: January 28, 2022)

INTRODUCING THE SUMMER PENN/CASE ADVANCEMENT INTERNSHIP

Interested in higher-ed advancement? Learn from experienced professionals!

The Office of Development and Alumni Relations at the University of Pennsylvania is partnering with the Council for Advancement and Support of Education (CASE– www.CASE.org) to host The Penn/CASE Advancement Internship program, which seeks to increase and diversify the number of professionals in educational advancement. This program is designed to attract students (undergraduate and graduate) who may not have previously considered a career in institutional advancement.


WHO: Penn undergraduate and graduate students.

WHAT: An eight-week summer internship program.

WHEN:  Monday, June 6 – Friday, July 29, 2022 *    

Interns will receive:
Hands-on educational advancement experience at a premier institution
Compensation for the duration of the internship ($5,000)
All-expense paid three-day training in Washington, D.C. (June 26-28, 2022)
Select book from the CASE bookstore
Mentor from your host institution
Matched up with a CASE member in field of interest for Zoom meetings throughout the internship
Participation in introductory online seminars to learn about the various areas of the advancement profession
CASE student membership for one year after the internship, accessing CASE webinars, the CASE Library and Career Central
Regular communication post-internship on entry-level job postings and professional development opportunities
*Interns are responsible for travel and lodging/accommodations

Do you want to apply for a CASE Intern position at Penn?
Apply online at  www.alumni.upenn.edu/caseintern2022
DEADLINE: Friday, January 28, 2022

To apply to other participating institutions please apply here before Friday, February 4, 2022.
www.case.org/talent-management/case-advancement-internship-program


If you have any questions about which application to complete, please reach out to
Jean Findlay, Senior Director of Development at 215-898-3647 or findlay@upenn.edu

Engineering Undergraduates: Apply to 2022-2023 Perry World House Student Fellows Program (DEADLINE: February 11, 2022)

Perry World House is seeking applications from rising Penn sophomores, juniors and seniors for its 2022-2023 class of World House Student Fellows. This competitive program is intended for undergraduate students from any school or department who have demonstrated a serious interest in exploring global affairs in depth during their time at Penn. World House Student Fellows will participate in a series of seminars, projects, and activities oriented around critical global inquiry. They will receive unparalleled access to, and direct interaction with, faculty and distinguished visitors, along with unique opportunities and activities oriented around global affairs. Between new and returning fellows, we plan to have a class around 30 students for the 2022-2023 academic year.

What the program will offer:

Core experiences

The World House Student Fellows Program will offer students leadership opportunities and the chance to tackle global issues through four different types of engagement:

·       Policy Project: Directed by faculty and staff, fellows will work in teams on a year-long project. Each group will develop a policy-relevant research question linked to the themes and priorities of the Global Innovation Program, the think tank wing of Perry World House. The group will explore this topic over the course of the year under the guidance of World House postdoctoral fellows, faculty, and visiting fellows. At the end of the academic year, each group will present its work to policymakers, practitioners, and affiliated Perry World House faculty and scholars. This research will also be published, as appropriate, by Perry World House. Check out our website to learn more about last year's projects.  

·       Unique access to faculty and visitors: World House Student Fellows will explore and analyze pressing global issues in regular seminars facilitated by Perry World House faculty, staff, and visitors. These seminars will also be used to teach students skills to translate research into policy-relevant output.  

·       Research and career mentorship: World House Student Fellows will receive research mentoring from affiliated faculty and/or visiting scholars, postdocs, or distinguished visitors. Hands-on collaboration with experts will hone research and critical thinking skills. Thesis research and internship funding may be available on a competitive basis to students working in areas related to Global Innovation Program priorities. Exclusive career development events with alumni and other guests will also be held during the year, including two field-learning experiences visiting organizations in New York City during the fall semester, and Washington, D.C. in the spring. All World House Student Fellows will also learn how to produce and publish various types of products aimed at influencing government, international, and/or NGO policy communities in the U.S. and around the world.  

·       Special Events: World House Fellows will have preferential access to small-group conversations with World House Distinguished Visiting Fellows and guest speakers over the course of their fellowship.  

Additional opportunities  

While the World House Student Fellows program is intended primarily to offer student leadership, research, mentoring, and publication opportunities, it also seeks to build the community of students interested in international affairs. Thus, a range of unique professional and social opportunities will be made available to World House Student Fellows, some of which will be added to the program throughout the year based on student interest and institutional capacity. Each class will have an orientation at the start of the school year. The fellows will also participate in an annual to Washington, D.C. in the spring, and New York City, in the fall, to meet with policymakers, alumni, and academics. Finally, there may be opportunities for funding for thesis research and/or summer internships for those Student Fellows with demonstrated engagement in the program over time.

Expectations:

Fellows are expected to be full participants in all elements of the Fellowship experience and will spend around 4-5 hours per week involved in the program, on average. This time would include meetings with faculty/visitors, project meetings, research, and other activities at Perry World House. The goal of the World House Student Fellows Program is to complement students' existing academic experiences at Penn by adding further elements of interactive global inquiry. Becoming a Student Fellow is a one-year commitment with potential to renew based on your performance in the program and continued interest.

Qualifications 

This program is open to any student that will be a sophomore, junior, or senior at the University of Pennsylvania at the beginning of the fall 2022 semester.

Application Instructions

The application deadline is February 11th, 2022. For the full details and to please click here: http://apply.interfolio.com/101219.

Participate In NSF Funded Study: Discover How Network of Developers / Mentors Can Impact Professional Identities in Engineering!

Here is an exciting opportunity of participating in a study that can help you discover how Network of Developers/Mentors can impact your professional identities in Engineering !

This study is funded by National Science Foundation (NSF). See attached the Flyer giving participant criteria, benefits including monetary incentive, & Sign-up link.

Here is the Sign-up Link as well : https://drexel.qualtrics.com/jfe/form/SV_3n6NdYC1cFp4nAO 

Tech Jobs @ SEAS! (work-study not required)

We're Computing and Educational Technology Services (CETS), the tech support team for Penn Engineering, and we'd like to invite you to apply for one of our student positions. Why consider joining the best computing staff on campus? See what CETS offers…

Flexibility:

At CETS you're *never* on call, so work doesn't interfere with your study time. In fact, you customize your schedule to fit your needs and you have the option of making changes as often as you like.

Great Pay/Consistent Pay:

Our positions *start* at $11.00 an hour and our hours are consistent *throughout* the semester, so you never need to worry about slow work weeks affecting your pay.  Work-study is NOT required for this position.

Autonomy:

Our students have a team of professionals to back them up, however, our Help Desk is essentially staffed and managed by students.

Nurturing environment:

Our students work with computing professionals who aren't afraid of giving them real responsibilities while providing encouragement and guidance. Yet, many of our students initially came to us with very little experience.

Engineering is a very demanding curriculum requiring frequent use of our labs. As an Engineering student you will be spending a lot of time in CETS labs using software not found anywhere else on campus. Why not get paid for sharing what you learn?

If you haven't applied to CETS yet and you want to make the most of your college career, slots are limited so apply today.

Please apply here…

http://www.seas.upenn.edu/cets/student-employment/apply-online.php

Penn Libraries are hiring students! Apply

The Penn Libraries is now hiring students in a variety of roles. Daytime, evening, and weekend hours are available at library locations across campus.

Applicants should search "Library" in Workday for open positions.

Learn more: https://www.library.upenn.edu/about/hr/students

All students are eligible for employment in the libraries.          

Red & Blue Engagement Center is hiring non-work study students

The Red & Blue Engagement Center is looking for enthusiastic students (both undergraduate and graduate level) who love Penn or freshman who are learning to love Penn and want to connect with alumni and parents about the great things happening at the University! The center is open year-round and always hiring for the fall, spring, or summer semesters.

The job is posted to Handshake but students can also apply directly at  https://upenn.theengagementcenter.com/

Platt House is seeking an App Designer

Platt House is seeking a designer to create a user friendly app where student artists can connect with other student artists for projects and independent work. We would like to call it Debut or something similar and a description is below.  Compensation will be provided and determined before work is started.

Debut is an app for student artists looking to connect on short term projects. Debut provides a platform for student artists to connect, portfolio-build, and gain experience. This role would require the ability to program an app and would provide creative development and leadership opportunities.

Contact Laurie McCall, Platt House Director (lmccall@upenn.edu) for more information.

Airport Cooperative Research Program's University Design Competition (DEADLINE for submissions: May 13, 2022)

The FAA-sponsored Airport Cooperative Research Program's University Design Competition for Addressing Airport Needs provides an outstanding opportunity for individual students or student teams working under the guidance of faculty advisors to design solutions to real world issues addressing our nation's airports and the National Air System.

Students win cash prizes ($3,000 for first place, $2,000 for second, and $1,000 for third place) in each of four different broad categories:
Airport Operation and Maintenance
Airport Management and Planning
Airport Environmental Interactions
Runway Safety/ Runway Incursions/Runway Excursions Including Aprons, Ramps, and Taxiway
A variety of multidisciplinary topics are suggested, but students can come up with their own relevant topics for their design solution.

First place winners present their work at an award ceremony at the National Academies of Science, Engineering and Medicine in Washington, D.C. and also at a relevant national professional conference.  All expenses are covered.

Competition runs from August 16, 2021 to May 13, 2022.  Find more information here: ACRP Design Competiton .  Access guidlines here.