SEAS Weekly 1-11-23
Jump to:
Engineering Activities | Penn Activities | Scholarships | Paid/Unpaid Opportunities
---
Academic Integrity Reminder
Please remember that all students are obligated to follow the Code of Academic Integrity. As noted, "If a student is unsure whether his action(s) constitute a violation of the Code of Academic Integrity, then it is that student's responsibility to consult with the instructor to clarify any ambiguities
---
Words to think about this week
"Don't Be Afraid. Be Focused. Be Determined. Be Hopeful. Be Empowered." — Michelle Obama
---
Highlights for the Week
Penn Engineering Student Learning and Engagement (PESTLE): The goal of PESTLE is to provide an opportunity for all Penn Engineering students to engage with the Philadelphia community.  There are multiple opportunities for engagement, whether they are one-time service events or ongoing commitments, student organization activities, school initiatives, or university partnerships with local community centers.  Learn more at https://pestle.seas.upenn.edu/
Student Health and CAPS Are Available for Students Remember to call first!

SHS & CAPS Website: https://wellness.upenn.edu/
Medical Services
3535 Market Street, Suite 100, Philadelphia, PA 19104
Monday through Friday: 8 am – 6 pm
Saturday: 10 am – 3 pm
Closed on Sundays
215-746-3535 (24/7)
Counseling Services
3624 Market Street, First Floor West, Philadelphia, PA 19104
Monday through Wednesday: 9 am – 7 pm
Thursday and Friday: 9 am – 5 pm
Saturday: 10 am – 3 pm
Closed on Sundays
Students can drop-in and meet with a clinician during regular business hours.
215-898-7021 (24/7)
---
Important Dates:
| | |
| --- | --- |
| Date | Event |
| January 11 | First day of classes |
| January 16 | MLK, Jr. Day observed (no classes) |
| January 24 | Course Selection Period ends |
| February 20 | Drop Period ends |
---
Engineering Activities
RAS Academic Advising

Walk-in Advising at the Office of Diversity, Equity & Inclusion

ODEI is still offering walk-in advising in the Cora Ingrum Conference Room (enter at 211 Towne) from 11am-1pm every Wednesday. Emily Delany (eedelany@seas.upenn.edu), the Special Programs and Advising Coordinator from Research and Academic Services, would be delighted to meet with you!

MLK, Jr. Day of Service Information Session - 1/16 at 4:00 pm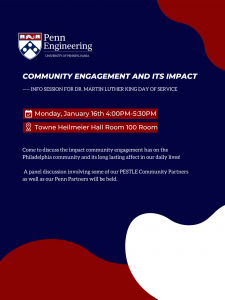 Join us on Monday, January 16 at 4:00 pm in Towne Heilmeier Hall (Room 100) to discuss the impact community engagement has on the Philadelphia community and its long-lasting effect in our daily lives! Panelists include:

Chanda Jefferson- Director of Community Engagement & Outreach in the Office of Diversity Equity and Inclusion

Emylee Fleshman- Program Coordinator at Penn Foods and Wellness Collaborative

Joel Wilson- Founder & Executive Director of TechCORE2

Ruben Jones, MHS- Executive Director of Frontline Dads

For any questions, email pestle@seas.upenn.edu.

P.E.S.T.L.E. Orientations - 1/20, 1/27, 2/3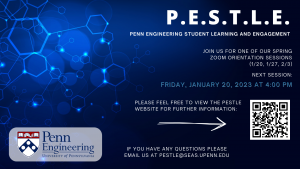 Join us Join P.E.S.T.L.E. for our Zoom Orientation sessions on Friday, January 20; Friday, January 27; and February 3, all at 4:00 pm! Please email us at pestle@seas.upenn.edu if you have any questions.

M&T Transfer Information Session 1/20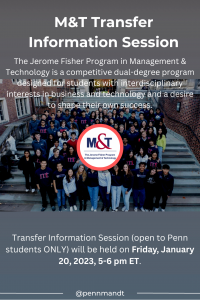 The Jerome Fisher Program in Management & Technology is a competitive dual-degree program designed for students with interdisciplinary interests in business and technology and a desire to shape their own success. Transfer Information session (open to Penn students ONLY) will be held on Friday, January 20, 2023 from 5:00-6:00 pm ET. Register here in advance for the info session. After you have registered, you will receive a confirmation email containing information about joining the virtual meeting.

M&T Summer Institute TA Info Session 1/18

M&TSI is our summer program for high school seniors interested in expanding their tech and business knowledge in a university setting.

We are looking for M&T TAs to lead teams through creating a prototype and business plan in a fast-paced and fun three weeks!

M&TSI 2023 will run July 9 – 29! Join us for an Info Session to hear about about this opportunity from last year's TAs. Perfect for students planning to take Summer Session I courses or are interested in doing research on campus over the summer! Learn more about the M&T Summer Institute at https://fisher.wharton.upenn.edu/management-technology-summer-institute/

The info sessions is Wednesday, Jan 18 at 7:00 pm. Register here: https://upenn.zoom.us/meeting/register/tJwofuCprjgqHdwg8hXox54Al17GZr2nwDUz
---
Penn Activities
Penn Tomorrow, Together: Open Forum for Students (1/12)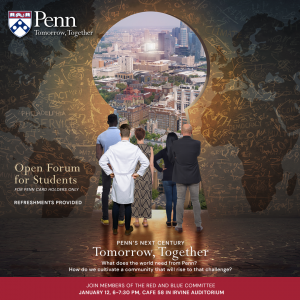 Join members of the Red and Blue committee January 12, 6:00-7:00 pm at Cafe 58 in Irvine Auditorium.

ABCS Courses Spring 2023

Penn Science Olympiad - Volunteers needed 2/18

Hi everyone!

The student organization Science Olympiad at the University of Pennsylvania (SOUP) is happy to announce that we will be hosting our invitational tournament on Saturday, February 18. It's our largest national tournament to date, with 1000+ high school students competing in various science events for the entire day. It is also our first in-person tournament since 2020. We will need student volunteers and would really appreciate it if you could volunteer a couple hours to help run the tournament.

All are welcome to help. And as always, free garb, lunch, and community service credit will be available to volunteers.

The current plan is to host our tournament in-person, so volunteers and event supervisors will be working together in person on the day of the tournament. The volunteer sign-up form can be found here and will close on 1/13.

Questions? Contact volunteer director Shobhit Prasad: sprasad4@sas.upenn.edu.

Global Research & Internship Program (GRIP) Summer 2023 - Info Session 1/12, App Deadline 1/16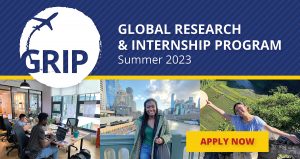 Please see the following for information about the GRIP 2023 program. This is an opportunity for students to intern or research abroad for 8-12 weeks over the summer. The application cycle is currently open for the upcoming summer and will close on Jan. 16, 2023. For summer 2023, we have just over 30 placements in 23 countries around the world! Students can view the complete list of GRIP placements through the link here.

For engineering students, these Engineering-related placements would be quite interesting to check out. Out of those, there are a few research placements that are for SEAS undergraduate students only:

If you are interested in attending the GRIP General Virtual Info Session on Thursday, January 12, at 5:30 pm, register here: https://calendly.com/intern-abroad/grip-infosession-virtual

Since GRIP is a non-credit-bearing program, we aren't able to provide Financial Aid. However, we do provide GRIP funding award for every accepted GRIP student to help offset the cost of summer. The minimum guaranteed funding award is usually around 50% of the total estimated cost of the summer for direct and research placements, or the program fee for cohort placements.
For students who are receiving need-based financial aid from Penn, we will also increase our funding award to cover 60% – 90% of the total estimated cost of the summer, based on students' need level.
For Highly Aided students, we will cover 100% of the total estimated cost of the summer.
For students who are U.S. citizens or permanent residents traveling to certain countries in East and Southeast Asia, their 100% of the total estimated cost of the summer will be covered by the Freeman Foundation.
In addition, we have recordings available for the following sessions we hosted. Please tell students to reach out if they are interested in viewing them: 
Info session for Social Impact in Buenos Aires and Entrepreneurship in Montevideo
Info session for Business in Sydney Placement
Info session for Bioethics placements (WMA and UNESCO)
Info Session for PR & Marketing in Bangkok and FinTech in Medellin
I would certainly recommend students checking out the GRIP website as well, where they will find detailed information on the application process, how to find the right placement and GRIP funding awards. Students are also encouraged to watch our On-Demand Information Session and GRIP Tips Application Workshop, as they prepare for their application. Students can get more information about past participants' experiences through our Penn Abroad Ambassadors site, as well as their blogs (they can filter by program and location).

If you have any questions, feel free to email intern-abroad@upenn.edu!
---
Scholarships
Udall Foundation Scholarship Opportunities (App Due 1/23)

The Udall Foundation awards undergraduate scholarships to university/college second-year students and juniors dedicated to leadership and public service in either of two areas:
Students from any ethnic background interested in conservation and environmental issues from any political perspective
Native Americans and Alaska Natives pursuing health-related careers or working on Tribal Policy
In addition to the scholarship (covers expenses for tuition, fees, books, and room and board up to a maximum of $7,000), Udall scholars have access to the Alumni Network and five days of Scholar Orientation in Tucson, Arizona.

The Udall Scholarship program accepts nominations from institutions – students may not apply independently. Interested students should contact Dr. Angie Estévez for access to the Udall application. The deadline to be considered for Penn's Udall nomination is January 23, 2023, at 4:00 pm. A sample application is available here.

Join CURF on Friday, December 9, 2022, at 3:30 pm for an information session where we discuss the Udall Scholarship, and you hear from recent Penn Udall Scholarship recipients who share their perspectives and experiences. Register in advance for this event:  Udall Scholarship Information Session and Scholar Panel
---
Paid/Unpaid Opportunities
Summer Penn/Case Advancement Internship (Apply by 1/31)

INTRODUCING THE SUMMER PENN/CASE ADVANCEMENT INTERNSHIP  

Interested in higher-ed advancement? Learn from experienced professionals! 

 

The Office of Development and Alumni Relations at the University of Pennsylvania is partnering with the Council for Advancement and Support of Education (CASE– www.CASE.org) to host The Penn/CASE Advancement Internship program, which seeks to increase and diversify the number of professionals in educational advancement. (i.e. fundraising, alumni relations, advancement services, communications, and marketing) 

This program is designed to attract students (undergraduate and graduate) who may not have previously considered a career in institutional advancement.  

WHO: Penn undergraduate and graduate students.                

WHAT: An eight-week summer internship program.  

WHEN:  Monday, June 5 – Friday, July 28, 2023 *     

Interns will receive: 

·         Hands-on educational advancement experience at a premier institution  

·         Compensation for the duration of the internship ($5,000) 

·         All-expense paid three-day training in Washington, D.C. (June 25-27, 2023) 

·         Select book from the CASE bookstore 

·         Mentor from your host institution  

·         Matched up with a CASE member in field of interest for Zoom meetings throughout the internship 

·         Participation in introductory online seminars to learn about the various areas of the advancement profession 

·         CASE student membership for one year after the internship, accessing CASE webinars, the CASE Library and Career Central  

·         Regular communication post-internship on entry-level job postings and professional development opportunities

 
*Interns are responsible for travel and lodging/accommodations 
 
Do you want to apply for a CASE Intern position at Penn? 
Apply online at  www.alumni.upenn.edu/caseintern2023 
or follow the QR code.
DEADLINE: Tuesday, January 31, 2023 

To apply to other participating institutions please apply here before Friday, February 3, 2023. 
www.case.org/talent-management/case-advancement-internship-program 

 
If you have any questions about which application to complete, please reach out to  
Joanna Tzen, Senior Associate Director at 215-898-1278 or josung@upenn.edu 

Stavros Niarchos Foundation Paideia Fellows Call for Nominations and Applications (1st round due 1/30, 2nd round due 2/27)

We are currently accepting applications from first year Penn students for the SNF Paideia Fellows Program in two rounds. Students who wish to apply for the first round may submit their application up through Noon, Monday, January 30. Students applying in the second round have through Noon, Monday, February 27.

SNF Paideia Fellows are a select group of undergraduate students committed to developing the knowledge, skills, and values needed for effective, ethical, and civil dialogue in a diverse world. Fellows develop a small, close-knit, and academically diverse scholarly community over the course of their three years (sophomore – senior year) in the program. Far from being insular, the Fellows community constantly looks to connect and converse with other entities at Penn and beyond, pursuing integration where there is fragmentation.
HOW TO SHARE WITH YOUR COMMUNITY
Circulate the attached poster.
If you are a Freshman and want to apply, please do so! SNF Paideia Fellows Program – PennCURF (smapply.io)

A Message to Penn Seniors Regarding the 2023 President's Engagement and Innovation Prizes From President Liz Magill (Due 2/3/23)

Do you want to use your Penn education to make a difference in the lives of others? Do you dream of pioneering your own public service project or startup? Could you use $100,000 to turn your idea into a reality?

If the answer to any of these questions is yes, I encourage you to learn more about the President's Engagement Prize and President's Innovation Prize, two of the highest honors open exclusively to Penn seniors. These Prizes—"PEP" and "PIP," as they've come to be known—are life-changing opportunities to make a difference after graduation.

Both Prizes underscore the importance of using your Penn education to make a positive social impact. While PEP and PIP are similar, there are some important differences.

Launched in 2014, PEP requires applicants to design a nonprofit venture that has a demonstrable impact in Philadelphia, across the country, or around the world. PEP winners receive $100,000 in project implementation funds, plus a $50,000 living stipend per team member. Students may apply in teams of up to three.

Launched in 2015, PIP requires students to design a for-profit company that has a positive social impact. Students may apply in teams of up to five members. In addition to $100,000 in project implementation expenses and a $50,000 living stipend per team member, winners receive space at the University's Pennovation Center.

From promoting health equity and fighting food insecurity to engineering an innovative solution for microplastic pollution, last year's Prize recipients are already well on their way toward making a meaningful, tangible difference in people's lives.

The application deadline for both Prizes this year will be February 3, 2023. Eligible seniors may apply for just one of the Prizes. Like last year, all sustainability-focused project proposals that are submitted as part of the standard PEP or PIP application process will automatically be considered for the President's Sustainability Prize.

To help you determine which Prize is best suited for you and to provide more information on the application process, Penn staff will be hosting a series of information sessions in the coming weeks. Details will be shared in a follow-up communication.

For more information, including a detailed FAQ regarding eligibility and application requirements, please visit the CURF website at https://curf.upenn.edu/prizes.

I hope to see your application for the President's Engagement Prize or President's Innovation Prize among those that we review this year. Good luck, and best wishes for a wonderful and safe fall semester.

Airport Cooperative Research Program University Design Competition for Addressing Airport Needs (8/16/22 - 5/12/23)

The FAA-sponsored Airport Cooperative Research Program's University Design Competition for Addressing Airport Needs provides an outstanding opportunity for individual students or student teams working under the guidance of faculty advisors to design solutions to real-world issues addressing our nation's airports and the National Air System.

Students win cash prizes ($3,000 for first place, $2,000 for second, and $1,000 for third place) in each of four different broad categories:
Airport Operation and Maintenance
Airport Management and Planning
Airport Environmental Interactions
Runway Safety/ Runway Incursions/Runway Excursions Including Aprons, Ramps, and Taxiway
Airport needs embrace many disciplines including all engineering fields, environmental science, business, data science, computer science, psychology, and many others.

A variety of multidisciplinary topics are suggested, but students can come up with their own relevant topics for their design solution.  The Competition is an excellent open-ended design project for capstone courses and is also frequently used in other courses, for independent study, or as a professional society student chapter project.

First place winners present their work at an award ceremony at the National Academies of Science, Engineering, and Medicine in Washington, D.C., and also at a relevant national professional conference.  All expenses are covered.

Interaction with airport operators and industry experts is required.  The Competition provides access to experts and to airport operators through its program website.

The Competition runs from August 16, 2022 to May 12, 2023.  Students can work in either or both academic semesters.  Additional information regarding the ACRP University Design Competition can be found at the Competition website located at www.trb.org/ACRP/ACRPDesignCompetition.aspx.  The updated guidelines for submission are attached and can be found at https://vsgc.odu.edu/acrpdesigncompetition/guidelines/.

The Airport Cooperative Research Program is part of the Transportation Research Board of the National Academies.  The Virginia Space Grant Consortium manages the Competition on behalf of the ACRP.

We hope you will consider this opportunity which has provided 2,706 students and 169 faculty advisors from 90 institutions with an outstanding educational opportunity immersed in real-world needs and that you will share it with other faculty or students who might have an interest.

Appy to be an M&T Summer Institute TA!

Apply to Be an M&T Summer Institute TA! M&TSI is our summer program for high school seniors interested in expanding their tech and business knowledge in a university setting. We are looking for M&T TAs to lead teams through creating a prototype and business plan in a fast-paced and fun three weeks!

Learn more about the M&T Summer Institute program on the M&T website here: https://fisher.wharton.upenn.edu/management-technology-summer-institute/

For more information, visit: http://www.myworkday.com/upenn/d/inst/15$158872/9925$41145.htmld

Startup Challenge 2023 Application Open Announcement (App Due 1/22)

Venture Lab Startup Challenge 2023: Applications Open on Monday, December 12, 2022!

Enter to compete for prizes worth more than $300,000 in cash and in-kind awards to help launch your venture! The Venture Lab Startup Challenge is a competition for Penn student-founded new ventures, culminating in the live Finals where the very best Penn student entrepreneurs pitch to a live audience and alumni judges to show their startups are ready to become the next big thing!

Learn more here: Startup Challenge (upenn.edu)

APPLICATION DEADLINE: January 22nd, before 11:59 pm ET

Contact Venturelab@upenn.edu with StartupChallenge'23 in the subject line with questions.