SEAS Weekly 10-30-23
Jump to:
Engineering Activities | Penn Activities | Scholarships | Paid/Unpaid Opportunities
---
Academic Integrity Reminder
Please remember that all students are obligated to follow the Code of Academic Integrity. As noted, "If a student is unsure whether his action(s) constitute a violation of the Code of Academic Integrity, then it is that student's responsibility to consult with the instructor to clarify any ambiguities.
---
Words to think about this week:
"Success only comes to those who dare to attempt." — Mallika Tripathi
---
Managing Stress in Uncertain Times
As the violence in the Middle East continues, it carries a rippling effect across the world–impacting students across the Penn community and beyond. We are all likely experiencing a range of emotional discomfort.
We know that times like these can bring up many emotions such as sadness, anxiety, anger, frustration, fear, loneliness, and grief. If you are feeling any of these emotions, know that it is normal and that you are not alone. Wellness at Penn is here to support you and help you manage your wellbeing.
Tips for Coping with World News and Events
Share your feelings
It is okay to feel a mix of many different emotions. Sharing your feelings with a trusted family member, friend, therapist, or religious leader can help you feel less alone and more empowered to cope.
Take breaks from the news and social media
Our lives are inundated with information that can feel overwhelming at times. Remember that you are in control and can set boundaries around your media consumption, including who and what you follow, how you receive notifications, and when it is time to unplug.
Connect with others
Remember that we all need human connection and community to thrive. Be sure to check in with others and share how you're feeling with those trusted sources around you.
Maintain a self-care routine
During times of uncertainty, finding ways to maintain a routine can help our minds and bodies cope. Eat three meals a day, maintain a regular sleep schedule, connect with nature, make a gratitude list, and remember to try to enjoy the simple things.
Sources of Support
Wellness at Penn: Student Health and Counseling
Jed Foundation
SAMHSA
Get Immediate Help in Crisis
Visit our Get Help Now page for Penn-specific resources.
National Suicide Prevention Lifeline
Call 1-800-273-8255 (24/7) or online chat from 2 PM-2 AM: https://suicidepreventionlifeline.org(link is external)
Crisis Text Line
Text HOME to 741741 (24/7): https://www.crisistextline.org(link is external)
Trevor Project
Call 1-866-488-7386 (24/7), online chat, or text START to 678678: https://www.thetrevorproject.org
Managing Stress in Uncertain Times | Wellness at Penn (upenn.edu)
---
Highlights for the Week
---
Important Dates:
| | |
| --- | --- |
| Date | Event |
| October 30-November 13 | Advance Registration for Spring Term |
| November 6 | Last Day to Withdraw from a Course |
| November 23-26 | Thanksgiving Break |
| November 27 | Classes resume |
---
Engineering Activities
OAS Academic Advising

Walk-in Advising at the Office of Diversity, Equity & Inclusion

ODEI is offering walk-in advising in the Cora Ingrum Conference Room (enter at 211 Towne) from 11am-1pm every Wednesday. Emily Delany (eedelany@seas.upenn.edu), the Special Programs and Advising Coordinator from Research and Academic Services, would be delighted to meet with you!

ODEI's Freshman Coaching Program - For New and Seasoned Students

Ongoing opportunity
Are you interested in studying with peers regularly? Would you like access to ten engineering students who have aced classes you're currently taking? If a study group appeals to you, please stop by ODEI on Mondays and Fridays from 12 PM to 2 PM to connect with Academic Coaches and peers. The Freshman Coaching Program provides a community of learners that help students establish a rhythm of study throughout their tenure at Penn. The program is not limited to first year students. Everyone is welcome to join us. Coaching covers chemistry, mathematics, CIS, physics, MATLAB, and more. If you would like to participate, please contact Dr. Yulanda Essoka at yult@seas.upenn.edu.

Engineering Entrepreneurship Fellows (App Due 11/1)

Duration: January through December

Eligibility: Juniors, Seniors, First-Year Master's students

Deadline to Apply: November 1

The Penn Engineering Entrepreneurship Fellows Program offers an immersive tech startup experience like no other. This program provides students the opportunity to network with startup leadership teams.

OAS Goodie Bag Giveaway 10/30 - 11/3

Visit OAS in Towne 109 from Monday 10/30 – Friday 11/3 from 10:00 am – 4:00 pm to pick up a goodie bag to help you get through Advanced Registration! Available until supplies run out.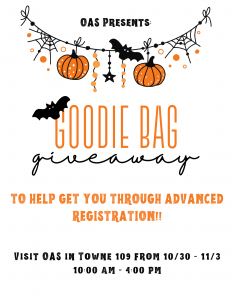 SWE Women's Faculty Dinner 11/2

Are you interested in getting to know some amazing women in the SEAS faculty while enjoying dinner with them? Come join SWE at the annual Women's Faculty Dinner for an exciting evening of chatting with professors in your major and connecting with other students!

Date: Thursday, November 2nd 6:30-8:30 PM

Location: Levine Lobby

RSVP here by Tuesday, Oct. 31st
---
Penn Activities
Wellness and Resilience Workshops

Free workshops open to all Penn students to learn strategies and skills to help you reach your goals, manage stress, and strengthen your relationships. Each 90-minute workshop offers a fun and casual space to meet and build relationships with other Penn students. These tools have been used by leaders in medicine, business, sports, as well as colleges students. Learn more on the poster below or at: https://wellness.upenn.edu/wellness-and-resilience

Mentor Meals: Make your Reservation Today!

NSOAI's meal-hosting initiative, the Penn Mentor Meals Program is open for booking reservations! This program encourages mentors and students to engage in conversation outside of the classroom and provide them with a meal free of charge!

Members of the Penn Community can initiate a meal with a mentor or mentee including current or past students, professors, teaching assistants, advisors, RAs, PHINS, Peer Advisors, members of Penn's professional staff, etc. Lunch is served at the University Club at the Inn at Penn on Mondays through Thursdays from 11:30am-2pm.
---
Scholarships
SUBJ: Funding opportunities for hi-tech projects & ventures – APPLICATIONS OPEN

Looking for funding for your tech project or venture? Penn Engineering is pleased to offer

 funding opportunities

 for high-tech project and venture development. We are soliciting proposals for projects and venture concepts that might develop into companies, and these funds are available to help:
Berkman Opportunity Fund ($500 or $1,000 per project)The Berkman Opportunity Fund provides support for students (or teams of students) with innovative ideas that might turn into products and companies.
Miller Innovation Fellowship ($15,000 per venture)Miller Innovation Fellowships are designed to allow students (or teams of students) that have made use of Penn's innovation & entrepreneurship resources to further develop ventures based on high-tech products & services and to have focused capital and advising resources to explore a venture.
ACRP University Design Competition Open and Offering Expanded Challenges

The FAA-sponsored Airport Cooperative Research Program's University Design Competition for Addressing Airport Needs provides an outstanding opportunity for individual students or student teams working under the guidance of faculty advisors to design solutions to real-world issues addressing our nation's airports and the National Air System.

Please note that we have made a few changes this year to the four challenge areas that students can submit their proposals.  We have combined Airport Operation and Maintenance under a new challenge area titled Airport Safety, Operations, and Maintenance and we have created a new challenge area named Passenger Experience and Innovations in Airport Terminal Design. See the guidelines to see topics that have included and added to the new Challenge areas.

Students win cash prizes ($3,000 for first place, $2,000 for second, and $1,000 for third place) in each of four different broad categories:
Airport Safety, Operations, and Maintenance
Passenger Experience and Innovations in Airport Terminal Design
Airport Environmental Interactions
Airport Management and Planning
Airport needs embrace many disciplines including all engineering fields, environmental science, business, data science, computer science, psychology, and many others.  A variety of multidisciplinary topics are suggested, but students can come up with their own relevant topics for their design solution.  The Competition is an excellent open-ended design project for capstone courses and is also frequently used in other courses, for independent study, or as a professional society student chapter project.

First-place winners present their work at an award ceremony at the National Academies of Science, Engineering, and Medicine in Washington, D.C., and also at a relevant national professional conference.  All expenses are covered.

Interaction with airport operators and industry experts is required.  The Competition provides access to experts and airport operators through its program website.

The Competition runs from August 17, 2023 to May 10, 2024.  Students can work in either or both academic semesters.  Additional information regarding the ACRP University Design Competition can be found at the Competition website located at www.trb.org/ACRP/ACRPDesignCompetition.aspx.  The updated guidelines for submission are attached and can be found on the competition web page.

The Airport Cooperative Research Program is part of the Transportation Research Board of the National Academies.  The Virginia Space Grant Consortium manages the Competition on behalf of the ACRP.

We hope you will consider this opportunity which has provided 2,784 students and 175 faculty advisors from 94 institutions with an outstanding educational opportunity immersed in real-world needs and that you will share it with other faculty or students who might have an interest.
---
Paid/Unpaid Opportunities
Computer Science Pathway Fellow

Open until positions are filled
The Computer Science Pathway Fellow will support students as part of Penn Engineering and Heights CS/Technology pathway programming at the High School of the Future.  This role will start by mid-October, continuing through early May, approx. 8-11 hours/week. This is a new position aimed at supporting 9th and 10th grade students who are enrolled in an introductory Computer Science class at High School of the Future in West Philadelphia.  Over time, Heights seeks to support School of the Future students from 9th – 12th grade and beyond, with a focus on enhancing student interest and success in Computer Science pathway courses through AP Computer Science A, ultimately forging pathways into Computer Science & Tech majors and careers. We are seeking a flexible, innovative individual who will act as a near-peer guide, tutor, and mentor to students, a pioneer figure in our new partnership with this school. Pay: $15 – $20/hr. If you have any questions, please contact Dr. Jeremy Heyman (jheyman@heights.org) or Chanda Jefferson (chandaj@seas.upenn.edu). More Info Here

Blended Learning Initiative (BLI) CS Instructors

Open until positions are filled
Heights Philadelphia, in partnership with Penn Engineering, is hiring students to be computer science instructors ($20/hr, ~2-4 hrs/week, teaching a CS class at Penn or at one of our partner high schools). For more information, please contact Dr. Jeremy Heyman (jheyman@heights.org) or Chanda Jefferson (chandaj@seas.upenn.edu). More Info Here

Columbia EE Prospective PhD Open House (11/3)

University of Washington Graduate Programs Virtual Info Session 11/6

Have you ever considered graduate school?  If so, Electrical and Computer Engineering's (ECE) MS and/or PhD programs may be of interest to you! Please join us for our upcoming ECE Graduate Programs Info Session; We will have an Academic Advisor participating to discuss ECE's daytime graduate programs, preparation, application process, research areas and funding. Applications are accepted once per year by our December 15th deadline.

Session 1

Date: Monday, November 6th

Time: 9:00 am (PST)

Held via zoom. Registration required: https://tinyurl.com/UWECE9a

Session 2

Date: Monday, November 6th

Time: 5:00 pm (PST)

Held via zoom. Registration required: https://tinyurl.com/UWECE5p

Engineers for Exploration (E4E) Summer Research Program at UC San Diego ­- App Due 2/15

UC San Diego's Engineers for Exploration Summer Research Program is an NSF REU (Research Experience for Undergraduates) Site centered around multidisciplinary and collaborative student research with the broad goals of protecting the environment, uncovering mysteries related to cultural heritage, and providing experiential learning experiences.  Our program is a full-time paid research experience from June 24th to August 30th in which students will work in multidisciplinary research teams to aid scientists from the San Diego Zoo, Scripps Institute of Oceanography, and UC San Diego in tackling problems in fields such as ecology, physical oceanography, and archeology.

During this program, students will create and apply technologies in novel ways to aid scientists in their work, and may have opportunities to accompany these technologies on field deployments around the world.  Through these projects, students can expect to learn about embedded systems and software, machine learning, electronics integration, mechanical design, system building, as well as project management and team leadership.  For more information, please visit our website at https://e4e.ucsd.edu.

Applications are currently being accepted at https://e4e.ucsd.edu/apply through February 15.  Applications will continue to be accepted through March 30 if positions are not yet filled.