SEAS Weekly 10-9-23
Jump to:
Engineering Activities | Penn Activities | Scholarships | Paid/Unpaid Opportunities
---
Academic Integrity Reminder
Please remember that all students are obligated to follow the Code of Academic Integrity. As noted, "If a student is unsure whether his action(s) constitute a violation of the Code of Academic Integrity, then it is that student's responsibility to consult with the instructor to clarify any ambiguities.
---
Words to think about this week:
"There is nothing harder than the softness of indifference." – Juan Montalvo
---
Highlights for the Week
The DROP Deadline is TODAY, Monday, October 9, 20203. Starting October 10, you will be allowed to Withdraw or Change Grade Type only. Do not miss this deadline if you no longer wish to be in a course.

Monday, October 9, 20203 is Indigenous People's Day. The University remains open; Classes are in session.

Fall Break is October 12-15, 2023. The University remains open; Classes are NOT in session. Take a few days to catch up on fun things, sleep, and relax. Classes will resume on Monday, October 16.
Student Health and Counseling Services Are Available for Students Remember to call first!

Website: https://wellness.upenn.edu/
Medical Services
3535 Market Street, Suite 100, Philadelphia, PA 19104
Monday through Friday: 8 am – 6 pm
Saturday: 10 am – 3 pm
Closed on Sundays
215-746-3535 (24/7)
Counseling Services
3624 Market Street, First Floor West, Philadelphia, PA 19104
Monday through Wednesday: 9 am – 7 pm
Thursday and Friday: 9 am – 5 pm
Saturday: 10 am – 3 pm
Closed on Sundays
Students can drop-in and meet with a clinician during regular business hours.
215-898-7021 (24/7)
---
Important Dates:
| | |
| --- | --- |
| Date | Event |
| October 9 | Drop Period ends |
| October 12-15 | Fall Term Break |
| October 16 | Classes Resume |
| October 27 | Grade Type Change Deadline |
---
Engineering Activities
OAS Academic Advising

Walk-in Advising at the Office of Diversity, Equity & Inclusion

ODEI is offering walk-in advising in the Cora Ingrum Conference Room (enter at 211 Towne) from 11am-1pm every Wednesday. Emily Delany (eedelany@seas.upenn.edu), the Special Programs and Advising Coordinator from Research and Academic Services, would be delighted to meet with you!

Semiconductor Industry Days 10/23 - 10/24

Calling all Penn Engineers — get ready for our first ever Semiconductor Industry Days!

We invite you to join us across two days of activities — Monday, October 23 and Tuesday, October 24, 2023. Registration for Tuesday's Meet & Greets (similar to a virtual career fair) opens on Tuesday, October 10 at 9am. See the full list of events and more information (including a list of Meet & Greet employers, coming soon!) at 

https://linktr.ee/pennengsemi

.

M&T Transfer Student Information Session (10/20)

The Jerome Fisher Program in Management & Technology is a highly competitive dual-degree program designed for students with interdisciplinary interests in business and technology and a desire to shape their own success. Accepted applicants are dually admitted to the University of Pennsylvania Wharton School of Business and School of Engineering and Applied Science.

Fully matriculated Penn first years are eligible for transfer into the Program. Penn students may only apply to transfer into M&T at the conclusion of their first year.

Transfer Information Session (open to Penn students ONLY) will be held on Friday, October 20, 2023, 5-7 pm ET. Please register in advance for this info session. After you have registered, you will receive a confirmation email containing information about joining the virtual meeting. Register here: Transfer Student Info Session Registration (smartsheet.com)

ODEI's Freshman Coaching Program - For New and Seasoned Students

Ongoing opportunity
Are you interested in studying with peers regularly? Would you like access to ten engineering students who have aced classes you're currently taking? If a study group appeals to you, please stop by ODEI on Mondays and Fridays from 12 PM to 2 PM to connect with Academic Coaches and peers. The Freshman Coaching Program provides a community of learners that help students establish a rhythm of study throughout their tenure at Penn. The program is not limited to first year students. Everyone is welcome to join us. Coaching covers chemistry, mathematics, CIS, physics, MATLAB, and more. If you would like to participate, please contact Dr. Yulanda Essoka at yult@seas.upenn.edu.

Engineering Entrepreneur Fellowship (App Due 11/1)

Engineering Entrepreneurship Fellows
Duration: January through December
Eligibility: Juniors, Seniors, First-Year Master's students
Deadline to Apply: November 1
The Penn Engineering Entrepreneurship Fellows Program offers an immersive tech startup
experience like no other. This program provides students the opportunity to network with startup
leadership teams.
Learn More
---
Penn Activities
Wellness and Resilience Workshops

Free workshops open to all Penn students to learn strategies and skills to help you reach your goals, manage stress, and strengthen your relationships. Each 90-minute workshop offers a fun and casual space to meet and build relationships with other Penn students. These tools have been used by leaders in medicine, business, sports, as well as colleges students. Learn more on the poster below or at: https://wellness.upenn.edu/wellness-and-resilience

Mentor Meals: Make your Reservation Today!

NSOAI's meal-hosting initiative, the Penn Mentor Meals Program is open for booking reservations! This program encourages mentors and students to engage in conversation outside of the classroom and provide them with a meal free of charge!

Members of the Penn Community can initiate a meal with a mentor or mentee including current or past students, professors, teaching assistants, advisors, RAs, PHINS, Peer Advisors, members of Penn's professional staff, etc. Lunch is served at the University Club at the Inn at Penn on Mondays through Thursdays from 11:30am-2pm.

Penn Violence Protection: Domestic Violence Awareness Month

Please join us for events throughout Domestic Violence Awareness Month.

10/6, 10/20, 10/27, Fridays: Trauma Informed Yoga, 9 AM – 10 AM
10/19, Thursday: Paint Penn Purple Day
10/25, Wednesday: How to Support a Survivor, 6:30 PM – 8:30 PM

For more information, visit: Penn Violence Prevention – University of Pennsylvania (upenn.edu)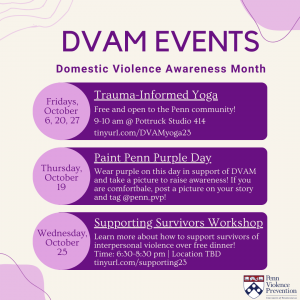 Latinx/e Heritage Month

Celebrate Latinx/e Heritage Month with events by La Casa Latina! For more information visit: La Casa Latina: Latinx Heritage Month Events | Global Initiatives (upenn.edu)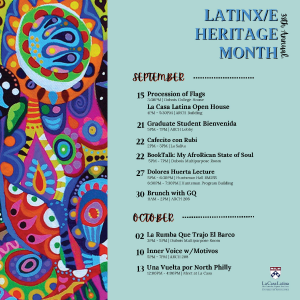 ---
Scholarships
SUBJ: Funding opportunities for hi-tech projects & ventures – APPLICATIONS OPEN

Looking for funding for your tech project or venture? Penn Engineering is pleased to offer

 funding opportunities

 for high-tech project and venture development. We are soliciting proposals for projects and venture concepts that might develop into companies, and these funds are available to help:
Berkman Opportunity Fund ($500 or $1,000 per project)The Berkman Opportunity Fund provides support for students (or teams of students) with innovative ideas that might turn into products and companies.
Miller Innovation Fellowship ($15,000 per venture)Miller Innovation Fellowships are designed to allow students (or teams of students) that have made use of Penn's innovation & entrepreneurship resources to further develop ventures based on high-tech products & services and to have focused capital and advising resources to explore a venture.
---
Paid/Unpaid Opportunities
Computer Science Pathway Fellow

Open until positions are filled
The Computer Science Pathway Fellow will support students as part of Penn Engineering and Heights CS/Technology pathway programming at the High School of the Future.  This role will start by mid-October, continuing through early May, approx. 8-11 hours/week. This is a new position aimed at supporting 9th and 10th grade students who are enrolled in an introductory Computer Science class at High School of the Future in West Philadelphia.  Over time, Heights seeks to support School of the Future students from 9th – 12th grade and beyond, with a focus on enhancing student interest and success in Computer Science pathway courses through AP Computer Science A, ultimately forging pathways into Computer Science & Tech majors and careers. We are seeking a flexible, innovative individual who will act as a near-peer guide, tutor, and mentor to students, a pioneer figure in our new partnership with this school. Pay: $15 – $20/hr. If you have any questions, please contact Dr. Jeremy Heyman (jheyman@heights.org) or Chanda Jefferson (chandaj@seas.upenn.edu). More Info Here

Blended Learning Initiative (BLI) CS Instructors

Open until positions are filled
Heights Philadelphia, in partnership with Penn Engineering, is hiring students to be computer science instructors ($20/hr, ~2-4 hrs/week, teaching a CS class at Penn or at one of our partner high schools). For more information, please contact Dr. Jeremy Heyman (jheyman@heights.org) or Chanda Jefferson (chandaj@seas.upenn.edu). More Info Here

Columbia EE Prospective PhD Open House (11/3)

University of Washington Graduate Programs Virtual Info Session 11/6

Have you ever considered graduate school?  If so, Electrical and Computer Engineering's (ECE) MS and/or PhD programs may be of interest to you! Please join us for our upcoming ECE Graduate Programs Info Session; We will have an Academic Advisor participating to discuss ECE's daytime graduate programs, preparation, application process, research areas and funding. Applications are accepted once per year by our December 15th deadline.

Session 1

Date: Monday, November 6th

Time: 9:00 am (PST)

Held via zoom. Registration required: https://tinyurl.com/UWECE9a

Session 2

Date: Monday, November 6th

Time: 5:00 pm (PST)

Held via zoom. Registration required: https://tinyurl.com/UWECE5p