SEAS Weekly 11-13-23
Jump to:
Engineering Activities | Penn Activities | Scholarships | Paid/Unpaid Opportunities
---
Academic Integrity Reminder
Please remember that all students are obligated to follow the Code of Academic Integrity. As noted, "If a student is unsure whether his action(s) constitute a violation of the Code of Academic Integrity, then it is that student's responsibility to consult with the instructor to clarify any ambiguities.
---
Words to think about this week:
"A problem is a chance for you to do your best." — Duke Ellington
---
Sources of Support
Wellness at Penn: Student Health and Counseling
Jed Foundation
SAMHSA
Get Immediate Help in Crisis
Visit our Get Help Now page for Penn-specific resources.
National Suicide Prevention Lifeline
Call 1-800-273-8255 (24/7) or online chat from 2 PM-2 AM: https://suicidepreventionlifeline.org(link is external)
Crisis Text Line
Text HOME to 741741 (24/7): https://www.crisistextline.org(link is external)
Trevor Project
Call 1-866-488-7386 (24/7), online chat, or text START to 678678: https://www.thetrevorproject.org
---
Highlights for the Week
---
Important Dates:
| | |
| --- | --- |
| Date | Event |
| October 30-November 13 | Advance Registration for Spring Term |
| November 23-26 | Thanksgiving Break |
| November 27 | Classes resume |
| December 11 | Last day of classes |
---
Engineering Activities
OAS Academic Advising

Walk-in Advising at the Office of Diversity, Equity & Inclusion

ODEI is offering walk-in advising in the Cora Ingrum Conference Room (enter at 211 Towne) from 11am-1pm every Wednesday. Emily Delany (eedelany@seas.upenn.edu), the Special Programs and Advising Coordinator from Research and Academic Services, would be delighted to meet with you!

ODEI's Freshman Coaching Program - For New and Seasoned Students

Ongoing opportunity
Are you interested in studying with peers regularly? Would you like access to ten engineering students who have aced classes you're currently taking? If a study group appeals to you, please stop by ODEI on Mondays and Fridays from 12 PM to 2 PM to connect with Academic Coaches and peers. The Freshman Coaching Program provides a community of learners that help students establish a rhythm of study throughout their tenure at Penn. The program is not limited to first year students. Everyone is welcome to join us. Coaching covers chemistry, mathematics, CIS, physics, MATLAB, and more. If you would like to participate, please contact Dr. Yulanda Essoka at yult@seas.upenn.edu.

Percentage Project Survey (Through 11/22)

Hello all,

We are conducting a diversity, equity, and inclusion research survey produced by the Percentage Project, a nonprofit organization dedicated to helping every person of every background embrace their diversity and feel a sense of belonging in the field that they pursue.

We are asking ALL STUDENTS to fill out this confidential survey to help us better understand how to make our program a more equitable and inclusive one. Please note that this survey is conducted by an external organization, and department faculty and staff will not have access to your individual responses. You are encouraged to be as honest as possible.

If you have any questions, please contact hello@percentageproject.com or cesimaan@seas.upenn.edu.

Thank you!

For more information, visit: https://www.percentageproject.org/about

AWE First-Year Sunday Sushi Social 11/19

Join AWE to relax and enjoy some sushi while meeting other first-year engineering students at our First-Year Sunday Sushi Social happening November 19th at 12PM!  RSVP required (space limited)

https://forms.gle/ciYJgMA1RgA2y9WVA.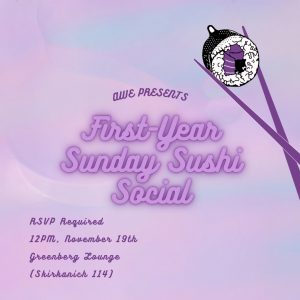 ---
Penn Activities
Wellness and Resilience Workshops

Free workshops open to all Penn students to learn strategies and skills to help you reach your goals, manage stress, and strengthen your relationships. Each 90-minute workshop offers a fun and casual space to meet and build relationships with other Penn students. These tools have been used by leaders in medicine, business, sports, as well as colleges students. Learn more on the poster below or at: https://wellness.upenn.edu/wellness-and-resilience

Mentor Meals: Make your Reservation Today!

NSOAI's meal-hosting initiative, the Penn Mentor Meals Program is open for booking reservations! This program encourages mentors and students to engage in conversation outside of the classroom and provide them with a meal free of charge!

Members of the Penn Community can initiate a meal with a mentor or mentee including current or past students, professors, teaching assistants, advisors, RAs, PHINS, Peer Advisors, members of Penn's professional staff, etc. Lunch is served at the University Club at the Inn at Penn on Mondays through Thursdays from 11:30am-2pm.

Updates Course Inventory Spring 2024 - Environmental Innovations Initiative: Engineering

Spring 2024 ASAM Courses

Please see the following website and infographic regarding the updated Spring 2024 ASAM courses.

Website: Courses for Spring 2024 | Asian American Studies Program (upenn.edu)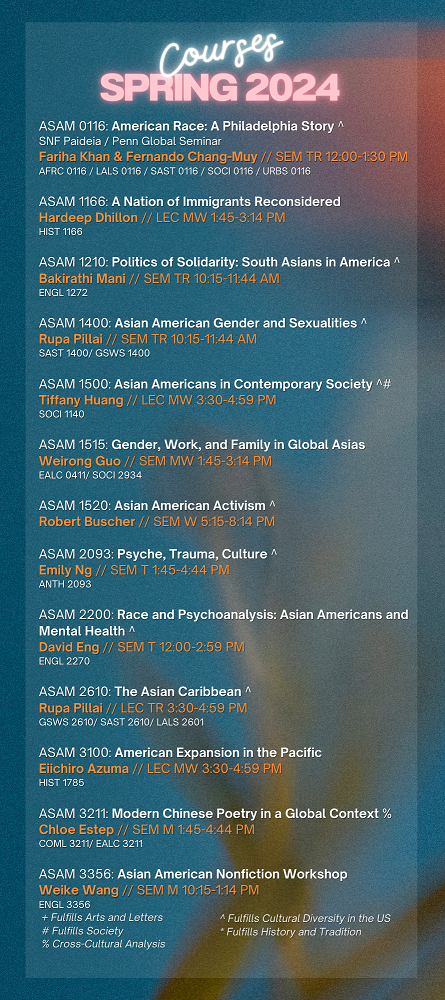 ---
Scholarships
SUBJ: Funding opportunities for hi-tech projects & ventures – APPLICATIONS OPEN

Looking for funding for your tech project or venture? Penn Engineering is pleased to offer

 funding opportunities

 for high-tech project and venture development. We are soliciting proposals for projects and venture concepts that might develop into companies, and these funds are available to help:
Berkman Opportunity Fund ($500 or $1,000 per project)The Berkman Opportunity Fund provides support for students (or teams of students) with innovative ideas that might turn into products and companies.
Miller Innovation Fellowship ($15,000 per venture)Miller Innovation Fellowships are designed to allow students (or teams of students) that have made use of Penn's innovation & entrepreneurship resources to further develop ventures based on high-tech products & services and to have focused capital and advising resources to explore a venture.
ACRP University Design Competition Open and Offering Expanded Challenges

The FAA-sponsored Airport Cooperative Research Program's University Design Competition for Addressing Airport Needs provides an outstanding opportunity for individual students or student teams working under the guidance of faculty advisors to design solutions to real-world issues addressing our nation's airports and the National Air System.

Please note that we have made a few changes this year to the four challenge areas that students can submit their proposals.  We have combined Airport Operation and Maintenance under a new challenge area titled Airport Safety, Operations, and Maintenance and we have created a new challenge area named Passenger Experience and Innovations in Airport Terminal Design. See the guidelines to see topics that have included and added to the new Challenge areas.

Students win cash prizes ($3,000 for first place, $2,000 for second, and $1,000 for third place) in each of four different broad categories:
Airport Safety, Operations, and Maintenance
Passenger Experience and Innovations in Airport Terminal Design
Airport Environmental Interactions
Airport Management and Planning
Airport needs embrace many disciplines including all engineering fields, environmental science, business, data science, computer science, psychology, and many others.  A variety of multidisciplinary topics are suggested, but students can come up with their own relevant topics for their design solution.  The Competition is an excellent open-ended design project for capstone courses and is also frequently used in other courses, for independent study, or as a professional society student chapter project.

First-place winners present their work at an award ceremony at the National Academies of Science, Engineering, and Medicine in Washington, D.C., and also at a relevant national professional conference.  All expenses are covered.

Interaction with airport operators and industry experts is required.  The Competition provides access to experts and airport operators through its program website.

The Competition runs from August 17, 2023 to May 10, 2024.  Students can work in either or both academic semesters.  Additional information regarding the ACRP University Design Competition can be found at the Competition website located at www.trb.org/ACRP/ACRPDesignCompetition.aspx.  The updated guidelines for submission are attached and can be found on the competition web page.

The Airport Cooperative Research Program is part of the Transportation Research Board of the National Academies.  The Virginia Space Grant Consortium manages the Competition on behalf of the ACRP.

We hope you will consider this opportunity which has provided 2,784 students and 175 faculty advisors from 94 institutions with an outstanding educational opportunity immersed in real-world needs and that you will share it with other faculty or students who might have an interest.
---
Paid/Unpaid Opportunities
Computer Science Pathway Fellow

Open until positions are filled
The Computer Science Pathway Fellow will support students as part of Penn Engineering and Heights CS/Technology pathway programming at the High School of the Future.  This role will start by mid-October, continuing through early May, approx. 8-11 hours/week. This is a new position aimed at supporting 9th and 10th grade students who are enrolled in an introductory Computer Science class at High School of the Future in West Philadelphia.  Over time, Heights seeks to support School of the Future students from 9th – 12th grade and beyond, with a focus on enhancing student interest and success in Computer Science pathway courses through AP Computer Science A, ultimately forging pathways into Computer Science & Tech majors and careers. We are seeking a flexible, innovative individual who will act as a near-peer guide, tutor, and mentor to students, a pioneer figure in our new partnership with this school. Pay: $15 – $20/hr. If you have any questions, please contact Dr. Jeremy Heyman (jheyman@heights.org) or Chanda Jefferson (chandaj@seas.upenn.edu). More Info Here

Blended Learning Initiative (BLI) CS Instructors

Open until positions are filled
Heights Philadelphia, in partnership with Penn Engineering, is hiring students to be computer science instructors ($20/hr, ~2-4 hrs/week, teaching a CS class at Penn or at one of our partner high schools). For more information, please contact Dr. Jeremy Heyman (jheyman@heights.org) or Chanda Jefferson (chandaj@seas.upenn.edu). More Info Here

Engineers for Exploration (E4E) Summer Research Program at UC San Diego ­- App Due 2/15

UC San Diego's Engineers for Exploration Summer Research Program is an NSF REU (Research Experience for Undergraduates) Site centered around multidisciplinary and collaborative student research with the broad goals of protecting the environment, uncovering mysteries related to cultural heritage, and providing experiential learning experiences.  Our program is a full-time paid research experience from June 24th to August 30th in which students will work in multidisciplinary research teams to aid scientists from the San Diego Zoo, Scripps Institute of Oceanography, and UC San Diego in tackling problems in fields such as ecology, physical oceanography, and archeology.

During this program, students will create and apply technologies in novel ways to aid scientists in their work, and may have opportunities to accompany these technologies on field deployments around the world.  Through these projects, students can expect to learn about embedded systems and software, machine learning, electronics integration, mechanical design, system building, as well as project management and team leadership.  For more information, please visit our website at https://e4e.ucsd.edu.

Applications are currently being accepted at https://e4e.ucsd.edu/apply through February 15.  Applications will continue to be accepted through March 30 if positions are not yet filled.

Summer Project Programmes at ETH Zürich 2024

ETH SSRF 2024: Applications opens at 1 November!

The Computer Science Department at ETH Zurich will once again open its doors in the summer of 2024 to students participating in the Student Summer Research Fellowship (ETH SSRF) programme. This programme is open to undergraduate and graduate students from around the world, and provides an opportunity for students to actively participate in research groups for new or existing projects. This allows visiting students a platform to focus on research in an area of their choice, under the guidance of mentors from ETH. It also gives students the opportunity to work and connect with a group of like-minded colleagues from across the globe, while gaining valuable research experience.

The fellowship is provided by the Computer Science Department of ETH Zurich, and takes place over two months during the summer. Twenty international students are selected each year, with each participant receiving a scholarship covering travel, accommodation and living expenses for the duration of the programme.

The application period is from 1 November until 15 December 2023, 13:00 CET.

More information on the application process and its requirements can be found on the ETH SSRF website: https://inf.ethz.ch/studies/summer-research-fellowship.html.

– – – – – – – – – – – – – – – – – – – – – – – – – – – – – –

ETH Robotics Student Fellowship 2024

The ETH Robotics Student Fellowship (ETH RSF) program offers graduate students the opportunity to research alongside experts on the specific topic of robotics of their choice. The awarded fellows will carry out cutting edge research in different areas of robotics (check out last year fellows). This fellowship will take place during summer (July 01 – August 31) and is open to all students worldwide.

Application period from January 15 to February 29 – 2024.

Projects for Progress Award 2024

What's your big idea? What concrete initiative do you think would make a real difference in the city of Philadelphia around any of the following goals?

*   Eradicating systemic racism
*   Achieving educational equity
*   Advancing environmental justice & sustainability
*   Eliminating health disparities based on race, gender, sexual orientation, and/or social determinants of health

Look to your left and to your right and you will find potential student, faculty, and staff collaborators with great ideas and, most importantly, a range of perspectives, interests, and expertise to contribute to your team.

If you have been at Penn for at least one full year as an undergraduate student or as a full-time employee, or if you will be at least 1/3 through a Penn graduate/professional degree program by the application deadline, consider learning about the $100,000 Projects for Progress Award. And please do pass this message along to any eligible Penn peers/colleagues who may be interested.

The application goes live on January 19, and the submission deadline is January 28, 2023.

You can learn more in the Projects for Progress FAQ: https://www.sec.upenn.edu/p4p

Prior recipients:

*   2023 P4P Award Cohort<https://penntoday.upenn.edu/news/2023-projects-progress-recipients-announced>
*   2022 P4P Award Cohort<https://penntoday.upenn.edu/news/2022-projects-progress>
*   2021 P4P Award Cohort<https://penntoday.upenn.edu/news/inaugural-projects-progress-recipients-announced>
*   Feature stories on the 2021 winning projects:

*   Meshing academics<https://penntoday.upenn.edu/news/penn-gse-netter-center-join-talents-inaugural-projects-progress-initiative> and fun for a summer program like no other – An inaugural Projects for Progress award helped bring to light a Penn Graduate School of Education and Netter Center for Community Partnerships initiative that readied young learners returning to in-person school this fall, and boosted teachers' confidence.
*   Bolstering environmental education<https://penntoday.upenn.edu/news/bolstering-environmental-education-cobbs-creek-stem-projects-progress> in Cobbs Creek – Through a Projects for Progress award and other University support, students in West Philadelphia are gaining greater access to STEM learning resources at the Cobbs Creek Community Environmental Center.
*   The care they need, where they are<https://penntoday.upenn.edu/news/care-they-need-shelter-health-outreach-program> –  A team of undergrads and physicians are partnering with community clinics and other organizations as part of a Projects for Progress-supported program to offer medical care to people experiencing homelessness and other vulnerable populations.

[/expand title="Bet on Entrepreneurship Information Session 11/14"]

Now in its 3rd year, the Bet on Entrepreneurship program provides current first-year undergraduates (Class of 2027) at the University of Pennsylvania who identify as first-generation, and/or lower-income (FGLI) with a summer immersion placement at one of the participating San Francisco/Bay Area-based venture capital firms.

Selected students participate in a pre-immersion bootcamp during the Spring semester and then travel to San Francisco for an immersion experience at one of our partner SF/Bay Area VC firms. Selected students are provided with a $10,000 award to assist with travel and living expenses, and housing is provided by the BoE program.

Click here to find out more:

https://wharton34996.activehosted.com/index.php?action=social&c=446&m=496

Virtual Info session: Tuesday, 11/14 at 12noon

[/expand]

M&TSI 2024 TA Info Session at Wharton 12/7