SEAS Weekly 11-28-22
Jump to:
Engineering Activities | Penn Activities | Scholarships | Paid/Unpaid Opportunities
---
Academic Integrity Reminder
Please remember that all students are obligated to follow the Code of Academic Integrity. As noted, "If a student is unsure whether his action(s) constitute a violation of the Code of Academic Integrity, then it is that student's responsibility to consult with the instructor to clarify any ambiguities
---
Words to think about this week
"No one who achieves success does so without acknowledging the help of others." — Alfred North Whitehead
---
Highlights for the Week
Penn Engineering Student Learning and Engagement (PESTLE): The goal of PESTLE is to provide an opportunity for all Penn Engineering students to engage with the Philadelphia community.  There are multiple opportunities for engagement, whether they are one-time service events or ongoing commitments, student organization activities, school initiatives, or university partnerships with local community centers.  Learn more at https://pestle.seas.upenn.edu/
Student Health and CAPS Are Available for Students Remember to call first!

SHS & CAPS Website: https://wellness.upenn.edu/
Medical Services
3535 Market Street, Suite 100, Philadelphia, PA 19104
Monday through Friday: 8 am – 6 pm
Saturday: 10 am – 3 pm
Closed on Sundays
215-746-3535 (24/7)
Counseling Services
3624 Market Street, First Floor West, Philadelphia, PA 19104
Monday through Wednesday: 9 am – 7 pm
Thursday and Friday: 9 am – 5 pm
Saturday: 10 am – 3 pm
Closed on Sundays
Students can drop-in and meet with a clinician during regular business hours.
215-898-7021 (24/7)
---
Important Dates:
| | |
| --- | --- |
| Date | Event |
| November 28 | Classes Resume |
| December 12 | Last day of classes |
| December 13-14 | Reading Days |
| December 15-22 | Final Examinations |
| December 22 | Fall Term ends |
---
Engineering Activities
RAS Academic Advising

Walk-in Advising at the Office of Diversity, Equity & Inclusion

ODEI is still offering walk-in advising in the Cora Ingrum Conference Room (enter at 211 Towne) from 11am-1pm every Wednesday. Emily Delany (eedelany@seas.upenn.edu), the Special Programs and Advising Coordinator from Research and Academic Services, would be delighted to meet with you!

Lego Building Study Break (12/2)

Want a study break? Love building things with legos?

Join us on Friday, December 2nd, from 4:00 – 5:00 pm at Skirkanich ground floor for a fun lego building study break with snacks! Bring your friends! We hope to see you there! RSVP here: https://forms.gle/imMqUnbJU2gkzFJF6

CIS Department Lunch 12/1

Do you have any questions about the CIS department at Penn? Or any feedback/suggestions you'd like to voice? Come join CIS Department Chair, Professor Zachary Ives, for lunch next Thursday, December 1st. The event will be in Houston Hall (Hall of Flags), from 11am to 1pm, and we are catering food from Pattaya. Please RSVP at tinyurl.com/cislunchrsvp ASAP. Finally, feel free to email clarice7@seas.upenn.edu or layay@seas.upenn.edu with any questions. We can't wait to see you there!

BE Department Lunch 12/5

Do you have any questions about the BE department at Penn? Or any feedback/suggestions you'd like to voice? Come join BE Department Chair, Dr. Ravi Radhakrishnan, for lunch next Monday, December 5th. The event will be in Houston Hall (Bodek Lounge), from 12pm to 2pm, and we are catering food from Baology. Please RSVP at tinyurl.com/belunchrsvp by this Thursday. Finally, feel free to email clarice7@seas.upenn.edu or layay@seas.upenn.edu with any questions. We look forward to having you!
---
Penn Activities
High Impact Engineering Careers: Speaker Event & Discussion (12/1)

Join Penn Effective Altruism, Penn Graduate Women in Science and Engineering, ASME, SHPE, SWE, SBE, and PEC for a speaker event and discussion about pursuing impactful engineering careers on Thursday, December 1st at 5:15 pm, in Lauder Media Room! High Impact Engineers will be giving a short presentation about some ideas, frameworks, and projects to consider, and then answering your questions. After the Q&A, we'll be holding small-group discussions over snacks! RSVP for the event at this link (bit.ly/eapenn121)! See you all there!
---
Scholarships
North Spore Scholarship 2022 (Due Dec 20)

North Spore Scholarship 2022 is worth $2,500 to pay for tuition, books, computers, accommodation, and any other educational expenses. This is open to students interested in enrolling or existing students of mycology, a postgraduate student in mycology, or another related study.

In order to participate in the scholarship contest, applicants must meet the following criteria:
Must be 18 years old or older.
Must be a legal resident of the United States or a holder of a valid student visa.
Must be currently enrolled in or accepted to a full-time program in an accredited US university or college
Must be a student of mycology, a postgraduate student in mycology, or another related study
Must provide a 300-word essay on or before the deadline of December 20, 2022.
The intent behind organizing the scholarship is to bring deserving and thoughtful young talents to the spotlight by nurturing their creativity and perseverance in creating a greener environment. To learn more about the scholarship, you can visit our website. If you have any questions please let us know.

Second Annual McHarg Fellowship (App Due 12/30)

The McHarg Fellowship is a fellowship given by The Ian L. McHarg Center for Urbanism and Ecology to an emerging voice in landscape architecture and its related fields. The Fellowship will be awarded competitively on an annual basis and the fellow is expected to be in residence at Weitzman (in Philadelphia) full-time for one academic year from the beginning of the Fall semester (August) through to the end of the Spring semester (May) in the following year.

The purpose of the Fellowship is to create a breakthrough opportunity for an emerging professional and/or academic, who would benefit most from support to conduct research, to teach, and to be mentored by faculty over the term of the fellowship.

The award constitutes $70,000 paid as salary to the fellow and an additional $5,000, awarded as a discretionary stipend for travel, research and exhibition related expenses.

The McHarg Center's mission is to build on the University of Pennsylvania Stuart Weitzman School of Design's position as a global leader in urban ecological design. It brings together environmental and social scientists together with planners, designers, policymakers, and communities to develop practical, innovative ways of improving the quality of life in the places most vulnerable to the effects of climate change. It adheres to the values set forward by Justice and Belonging at the Weitzman School of Design.

Click here for more information and for the application: McHarg Fellowship
---
Paid/Unpaid Opportunities
Be an RA: Seeking applicants for Fall 2022 & Spring 2023 positions (Apply by 12/23)

Be an RA: Join the top-ranked team of student leaders on campus!

CHAS is looking for the right upperclass/graduate students to fill RA roles in College Houses this fall and next spring. Being an RA is an amazing opportunity to provide mentorship, academic support, and activities for resident that facilitate relationships and make connections. Note: All RAs are provided a single-occupancy room along with a dining allocation.

To apply, go to www.collegehouses.upenn.edu/ra and complete an application. Review is on-going and will conclude Dec. 23rd.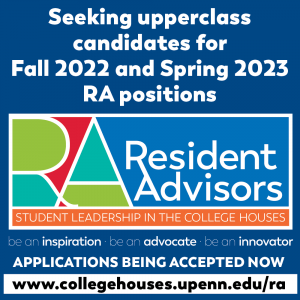 A Message to Penn Seniors Regarding the 2023 President's Engagement and Innovation Prizes From President Liz Magill (Due 2/3/23)

Do you want to use your Penn education to make a difference in the lives of others? Do you dream of pioneering your own public service project or startup? Could you use $100,000 to turn your idea into a reality?

If the answer to any of these questions is yes, I encourage you to learn more about the President's Engagement Prize and President's Innovation Prize, two of the highest honors open exclusively to Penn seniors. These Prizes—"PEP" and "PIP," as they've come to be known—are life-changing opportunities to make a difference after graduation.

Both Prizes underscore the importance of using your Penn education to make a positive social impact. While PEP and PIP are similar, there are some important differences.

Launched in 2014, PEP requires applicants to design a nonprofit venture that has a demonstrable impact in Philadelphia, across the country, or around the world. PEP winners receive $100,000 in project implementation funds, plus a $50,000 living stipend per team member. Students may apply in teams of up to three.

Launched in 2015, PIP requires students to design a for-profit company that has a positive social impact. Students may apply in teams of up to five members. In addition to $100,000 in project implementation expenses and a $50,000 living stipend per team member, winners receive space at the University's Pennovation Center.

From promoting health equity and fighting food insecurity to engineering an innovative solution for microplastic pollution, last year's Prize recipients are already well on their way toward making a meaningful, tangible difference in people's lives.

The application deadline for both Prizes this year will be February 3, 2023. Eligible seniors may apply for just one of the Prizes. Like last year, all sustainability-focused project proposals that are submitted as part of the standard PEP or PIP application process will automatically be considered for the President's Sustainability Prize.

To help you determine which Prize is best suited for you and to provide more information on the application process, Penn staff will be hosting a series of information sessions in the coming weeks. Details will be shared in a follow-up communication.

For more information, including a detailed FAQ regarding eligibility and application requirements, please visit the CURF website at https://curf.upenn.edu/prizes.

I hope to see your application for the President's Engagement Prize or President's Innovation Prize among those that we review this year. Good luck, and best wishes for a wonderful and safe fall semester.

Non work-study positions available at Red & Blue Engagement Center

The Red & Blue Engagement Center is looking for enthusiastic student ambassadors (both undergraduate and graduate level) who love Penn and want to connect with alumni and parents about the great things happening at the University! The center is open year-round and always hiring for the fall, spring, or summer semesters.

Students earn up to $13.50/hr with the opportunity for incentive based rewards and prizes. The center offers flexible scheduling (open 7/days a week) to allow students to work around their academic schedules.

The center is typically open:

   Sundays | 12:00 – 8:00pm

   Mondays | 6:00 – 9:00pm

   Tuesdays | 6:00 – 9:00pm

   Wednesdays | 6:00 – 9:00pm

   Thursdays | 6:00 – 9:00pm

   Fridays | 2:00 – 5:00pm

   Saturdays | 12:00 – 6:00pm

Additional hours, including late night hours (9:00 – 11:00pm) and weekday hours, are available periodically as well.

PLEASE USE THE CONTACT INFORMATION BELOW:

To apply, visit the Red & Blue Engagement Center's website at http://upenn.thecallingcenter.com

For more information, contact the Center's manager, Emma Burns at:

Email | PennCalling@gmail.com

Phone | 215.573.5231

Check out PennCalling here: https://www.instagram.com/penncalling/

Flyer: Engagement Ambassador 

Airport Cooperative Research Program University Design Competition for Addressing Airport Needs (8/16/22 - 5/12/23)

The FAA-sponsored Airport Cooperative Research Program's University Design Competition for Addressing Airport Needs provides an outstanding opportunity for individual students or student teams working under the guidance of faculty advisors to design solutions to real-world issues addressing our nation's airports and the National Air System.

Students win cash prizes ($3,000 for first place, $2,000 for second, and $1,000 for third place) in each of four different broad categories:
Airport Operation and Maintenance
Airport Management and Planning
Airport Environmental Interactions
Runway Safety/ Runway Incursions/Runway Excursions Including Aprons, Ramps, and Taxiway
Airport needs embrace many disciplines including all engineering fields, environmental science, business, data science, computer science, psychology, and many others.

A variety of multidisciplinary topics are suggested, but students can come up with their own relevant topics for their design solution.  The Competition is an excellent open-ended design project for capstone courses and is also frequently used in other courses, for independent study, or as a professional society student chapter project.

First place winners present their work at an award ceremony at the National Academies of Science, Engineering, and Medicine in Washington, D.C., and also at a relevant national professional conference.  All expenses are covered.

Interaction with airport operators and industry experts is required.  The Competition provides access to experts and to airport operators through its program website.

The Competition runs from August 16, 2022 to May 12, 2023.  Students can work in either or both academic semesters.  Additional information regarding the ACRP University Design Competition can be found at the Competition website located at www.trb.org/ACRP/ACRPDesignCompetition.aspx.  The updated guidelines for submission are attached and can be found at https://vsgc.odu.edu/acrpdesigncompetition/guidelines/.

The Airport Cooperative Research Program is part of the Transportation Research Board of the National Academies.  The Virginia Space Grant Consortium manages the Competition on behalf of the ACRP.

We hope you will consider this opportunity which has provided 2,706 students and 169 faculty advisors from 90 institutions with an outstanding educational opportunity immersed in real-world needs and that you will share it with other faculty or students who might have an interest.

Survey on Engineering Thriving

Dear engineering student,

Interested in reflecting on your own thriving? As part of a research project at the University of New Hampshire (IRB-FY2022-235), thriving engineering students are invited to take a survey on engineering thriving. This project seeks to develop a way of accurately measuring thriving that can inform universities on ways to better support student thriving.

By participating in this research project with your .edu email, you will be entered into a drawing for one of twenty $40 Amazon gift card AND receive a personalized report of your thriving profile.

You can access the survey here: Engineering Thriving Survey

If you have any questions, please contact Dr. Julianna Gesun at Julianna.Gesun@unh.edu.