SEAS Weekly 2-20-23
Jump to:
Engineering Activities | Penn Activities | Scholarships | Paid/Unpaid Opportunities
---
Academic Integrity Reminder
Please remember that all students are obligated to follow the Code of Academic Integrity. As noted, "If a student is unsure whether his action(s) constitute a violation of the Code of Academic Integrity, then it is that student's responsibility to consult with the instructor to clarify any ambiguities.
---
Words to think about this week:
"Somebody once said we never know what is enough until we know what's more than enough." – Billie Holiday
---
Highlights for the Week
ESAC presents E-Week: HypotheSEAS!

Celebrate the international holiday for engineers by attending fun-filled events planned by our constituent organizations. Take a break from studying by doing trivia while drinking boba, watching a movie, or learning how to crochet!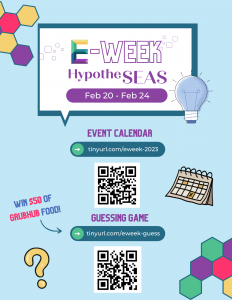 Student Health and CAPS Are Available for Students Remember to call first!

SHS & CAPS Website: https://wellness.upenn.edu/
Medical Services
3535 Market Street, Suite 100, Philadelphia, PA 19104
Monday through Friday: 8 am – 6 pm
Saturday: 10 am – 3 pm
Closed on Sundays
215-746-3535 (24/7)
Counseling Services
3624 Market Street, First Floor West, Philadelphia, PA 19104
Monday through Wednesday: 9 am – 7 pm
Thursday and Friday: 9 am – 5 pm
Saturday: 10 am – 3 pm
Closed on Sundays
Students can drop-in and meet with a clinician during regular business hours.
215-898-7021 (24/7)
---
Important Dates:
| | |
| --- | --- |
| Date | Event |
| February 20 | Drop Period ends |
| March 4-12 | Spring Term Break |
| March 13 | Classes Resume |
| March 17 | Grade Type Change Deadline |
---
Engineering Activities
RAS Academic Advising

Walk-in Advising at the Office of Diversity, Equity & Inclusion

ODEI is still offering walk-in advising in the Cora Ingrum Conference Room (enter at 211 Towne) from 11am-1pm every Wednesday. Emily Delany (eedelany@seas.upenn.edu), the Special Programs and Advising Coordinator from Research and Academic Services, would be delighted to meet with you!

P.E.S.T.L.E. Student Survey

The PESTLE staff would love to hear your thoughts and views on community engagement. We are looking to incorporate your feedback into our continued growth and expansion of the program. Please fill out the brief survey here: PESTLE survey

Advancing Women in Engineering (AWE) Allyship Committee Survey

We're the Advancing Women in Engineering (AWE) Allyship committee. We are collecting data to determine how best to serve our community with an anonymous survey about people's experiences thus far within the engineering school. This survey is open to all Penn Engineering undergraduates and should take less than 5 minutes to complete.

There is Information on how to enter a raffle for AWE/SEAS-branded swag at the end of the survey.

E-Week: SWE Tea Making Event (2/24)

Come join SWE to learn about the tea making process and to make your own tea blend! Brew and enjoy your homemade tea blend with fellow students. Open to all engineering students! February 24 from 11:00 am – 12:00 pm

Energy Week Lightning Talks - Submit a talk by February 22!

Current University of Pennsylvania students and post-docs are invited to present Ted-style talks related to energy at the 2023 Energy Week Lightning Talks on Thursday, March 23 from 12-1:30PM for the chance to win up to $1,000 USD in prizes evaluated by a panel of judges. The lightning talks are hosted by the Vagelos Integrated Program in Energy Research (VIPER), the Vagelos Institute for Energy Science and Technology, and the Kleinman Center for Energy Policy. Talks from all disciplines are encouraged and should center on your original academic work (research, writing, etc.) Some example topics are:

• Scientific studies with implications for energy systems

• The contextualization of energy in society, history, policy, or thought -Strategies to meet decarbonization -The role of society, culture and cities in the future of energy

• Community initiatives, pilot projects, or demonstrations related to energy generation or use

Research talks should be accessible to a general audience and provide context within the wider energy transition conversation. To learn more and apply, click here! The application deadline is February 22, 2023.

Energy Week Poster Session – Register to present by March 3rd!

You are invited to participate in the Energy Week at Penn 2023 Poster Session, a joint collaboration between the Vagelos Integrated Program in Energy Research (VIPER) the Vagelos Institute for Energy Science and Technology, and the Kleinman Center for Energy Policy on Tuesday, March 21 from 4:30-6:30PM. This is a great opportunity to meet other energy researchers, showcase and get feedback on your work, and learn about different energy research happening across campus. If you would like to present a poster, register here no later than March 3, 2023.

All students and post-docs who have research related to energy are encouraged to participate. Poster presenters will be assigned an hour-long block where they are expected to be at their poster but are otherwise encouraged to visit other posters, network with the attendees or enjoy refreshments!

To learn more and apply, click here!
---
Penn Activities
Final Call for SNF Paideia Fellows, Class of 2026 (Deadline 2/27)

Applications are being accepted from first year Penn students for the SNF Paideia Fellows Program!

Students may apply or be nominated for an SNF Paideia Fellowship in their first year. The final deadline is noon, Monday, February 27.
OVERVIEW
SNF Paideia Fellows are a select group of undergraduate students committed to developing the knowledge, skills, and values needed for effective, ethical, and civil dialogue in a diverse world. Fellows develop a small, close-knit, and academically diverse scholarly community over the course of their three years (sophomore – senior year) in the program. Far from being insular, the Fellows community constantly looks to connect and converse with other entities at Penn and beyond, pursuing integration where there is fragmentation.

Through academic courses, co-curricular events, and hands-on learning experiences, SNF Paideia Fellows:
Examine the theory and practice of dialogue across differences and apply a dialogue lens to issues of citizenship, community service, and individual and community wellness;
Integrate their public roles as citizens into their academic, personal, and professional lives in healthy, sustainable, and fulfilling ways;
Participate in curricular and co-curricular opportunities (directly through the SNF Paideia Program and with many other organizations and programs at Penn) designed to equip students with the tools necessary for effectively contributing to the local, national, and global communities of which they are a part.
PROGRAM STRUCTURE
The SNF Paideia Fellowship is an academic program that includes 4 credit units of SNF Paideia courses and a senior capstone project typically completed within the student's major. Paideia designated courses will be noted on a student's transcript, and those who successfully complete the Paideia Fellows Program will receive an SNF Paideia Program Certificate.

Each Fellow's path through the program will be different, tailored to match their unique individual interests and goals. All Fellows complete:
Two half credit Fellows Proseminars that foster community among the Fellows and build knowledge and skills for dialogue. In these courses, Fellows explore their own personal, professional, and civic identities in conversation with academic research. Proseminars are offered in the fall semester of the sophomore and junior years.
Three SNF Paideia designated courses. While Paideia courses vary in size, topic, and disciplinary approach, individually and collectively they are intended to provide students with the scholarly and applied knowledge, skills, ethical orientations, and experiences necessary to be informed, engaged, and effective community members and to lead fulfilling and integrated lives. These courses may also fulfill requirements in a student's major or school. SNF Paideia Fellows receive priority enrollment in SNF Paideia designated courses.
A Senior Capstone project that integrates a Fellow's major with dialogue, wellness, service, and/or citizenship.
In addition, SNF Paideia Fellows may have the opportunity to:
Plan and attend co-curricular events that explore the theory and practice of dialogue, wellness, service, and citizenship and are designed exclusively for SNF Paideia Fellows;
Serve as student facilitators at SNF Paideia-sponsored campus events, and as mentors to future classes of SNF Paideia Fellows.
Cultivate a broad network among students, faculty members, and staff at Penn who share a commitment to the themes of the SNF Paideia Program.
Complete a funded summer internship related to issues of public dialogue, service, and/or wellness.
Attend the Stavros Niarchos Foundation's summer conference in Athens, Greece one time during the three-year fellowship (when university policies permit international travel).
SUPPORT
SNF Paideia Fellows can apply for funding for their academic and community engagement work that relates to the mission of the SNF Paideia Program. This could include but is not limited to financial support for class- or capstone-related research and travel; costs associated with attending conferences and events; or for resources for campus or community projects that foster dialogue, wellness, service, or citizenship. Sophomore Fellows may request up to $2,000, juniors $3,000, and seniors up to $4,000 to support relevant activities. In addition, $5,000 is available for a summer internship (typically the summer after junior year).

Details:

REPL Undergraduate Research Internship at Penn (App Due 3/15)

REPL (Research Experiences for Undergraduates in Programming Languages) had started an undergraduate research internship at Penn. Students come to Penn for 10 weeks over the summer, doing programming languages research and prepping for a PhD in the field. Students who are a strong fit have the following traits:

– Want to pursue a PhD in CS

– Are a sophomore or junior

– Are URMs in CS (e.g. Latinx, black, indigenous, women, … )

– Have some kind of research-related experience, though not necessarily in programming languages

– Have completed coursework or projects involving mathematical proofs and programming

– US Citizens, Nationals, or Permanent Residents (per NSF funding stipulations)

Deadline to apply is March 15th. Travel, housing, and a $6,000 stipend provided. More complete details can be found on our site: https://penn-repl.github.io

Spring 2023 Career Fairs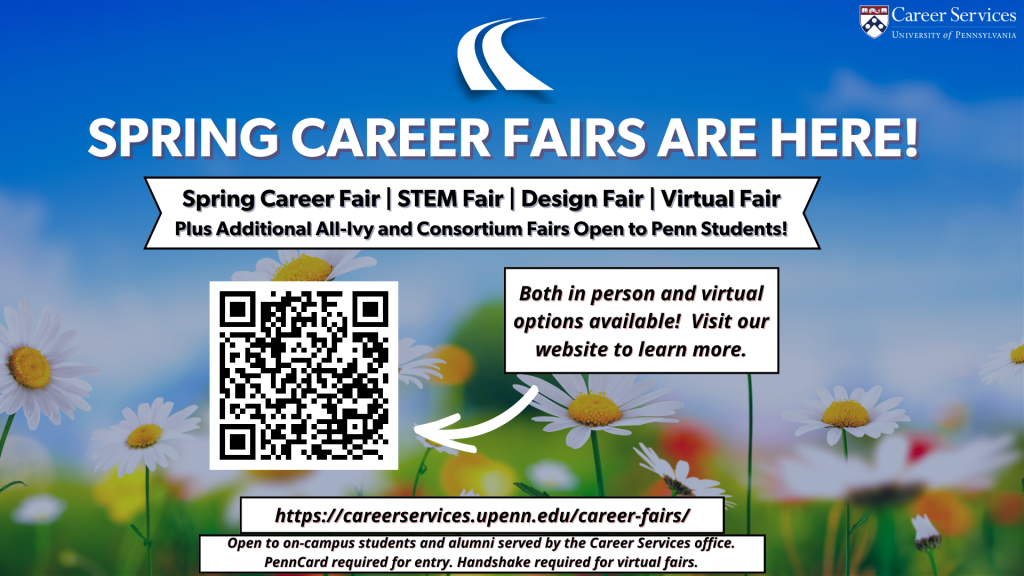 Spring Career Fairs are here! Visit Career Fairs – Career Services | University of Pennsylvania (upenn.edu) for more information.

Seniors: Application to be the Class of 2023 Undergraduate Student Speaker (Due 3/14)

Dear Penn Engineering seniors,

Each year, a senior is selected to present a 4-5 minute speech at Penn Engineering's Undergraduate Commencement Ceremony. I would like to invite all interested seniors to apply to be considered for the role of student speaker.  This is a great opportunity to represent the Class of 2023 and to speak to classmates, faculty and family about what was important to you and your classmates during your time at Penn.

Applications are due by: Tuesday, March 14, 2023

To apply, please visit the application page to access the form and submit:

1. Your full name
2. Your email address
3. Major/program name
3. A brief (less than 200 words) statement outlining why you would like to be the student speaker
4. A draft of your full speech (less than 650 words, or 4-5 minutes as you would deliver it)

After the deadline has passed, applications will be reviewed and finalists will be invited to submit a video of themselves delivering their speech, after which the speaker will be chosen.

I look forward to your submissions. Any questions can be directed to Olivia McMahon, Associate Director of Digital Communications in the Dean's Office (oliviaj@seas.upenn.edu).

Best regards,

Vijay Kumar
Nemirovsky Family Dean

Wellness at Penn: Spring Events, Programs, and Services

Hello Campus Partners!

I hope your spring semester is off to a great start. I am reaching out to highlight some of Wellness at Penn's events, programs, and services available this semester. Please share accordingly with your respective communities.
Read below for more information on each program and please do not hesitate to reach out with any questions or concerns. You can learn more about these and other upcoming events on our events page.

STUDENT i care TRAINING

What? A training that helps build a caring community with skills and resources to intervene with student stress, distress, and crisis.

When? April 1, from 1-4 pm. REGISTER NOW! (Please note: space is limited. Once the session is full, registration will close.)

Who? All interested students are welcome to attend.
Details: Approximately 6,000 faculty, staff, and students across Penn's schools, departments, and student life programs have gone through i care training. It's open to anyone interested in being an informed resource and a caring community member. A team of clinicians design, facilitate, and assess the i care training, which includes information, discussion, and experiential exercises that focus on mental health beliefs and biases, signs of stress, distress, and crisis, listening techniques, and crisis intervention skills. Learn more here.

 

GROUP THERAPY SESSIONS

What? Group therapy sessions for University of Penn students.

When? Ongoing throughout the Spring semester

Who? All interested students are welcome to attend.
Details: Group therapy can help students gain support, share experiences and struggles, learn about yourself, and develop skills to relate to others. Students who participate in group therapy tend to feel less isolated, more self-aware, and more connected to others as a result of being in group. Wellness at Penn's Student Health and Counseling team offers group therapy for a variety of topics, including body image, substance use, managing stress and anxiety, mindfulness, grief support, international student support, and more. Learn more here.

 

Finally, it's common this time of year for respiratory infections and other illness to spread around campus. Keep yourself and the rest of the Penn community healthy by staying home when you're feeling unwell, get your flu vaccine, cover your mouth and nose when coughing or sneezing, and practice good hand hygiene.

Thank you so much, and enjoy the rest of the semester!

Yours in Health,

Wellness at Penn

Upcoming PPEH Event (2/23)

Please join PPEH for Anti-Colonial/Decolonial Science in Practice, a roundtable event with Kim TallBear, Rick Smith, Tanía Perez-Bustos, and Isabel Gonzáles Arango, who will discuss how scientific research methods can align with or against ongoing coloniality by reflecting on their decolonial/anti-colonial science studies practices.

The hybrid event will take place on February 2023, 5-6:30 PM EST at Penn Museum 345 and via Zoom.

This event is the third in a four-part series exploring our annual topic Listening for the Anthropos-not-seen, directed by Dr. Kristina Lyons.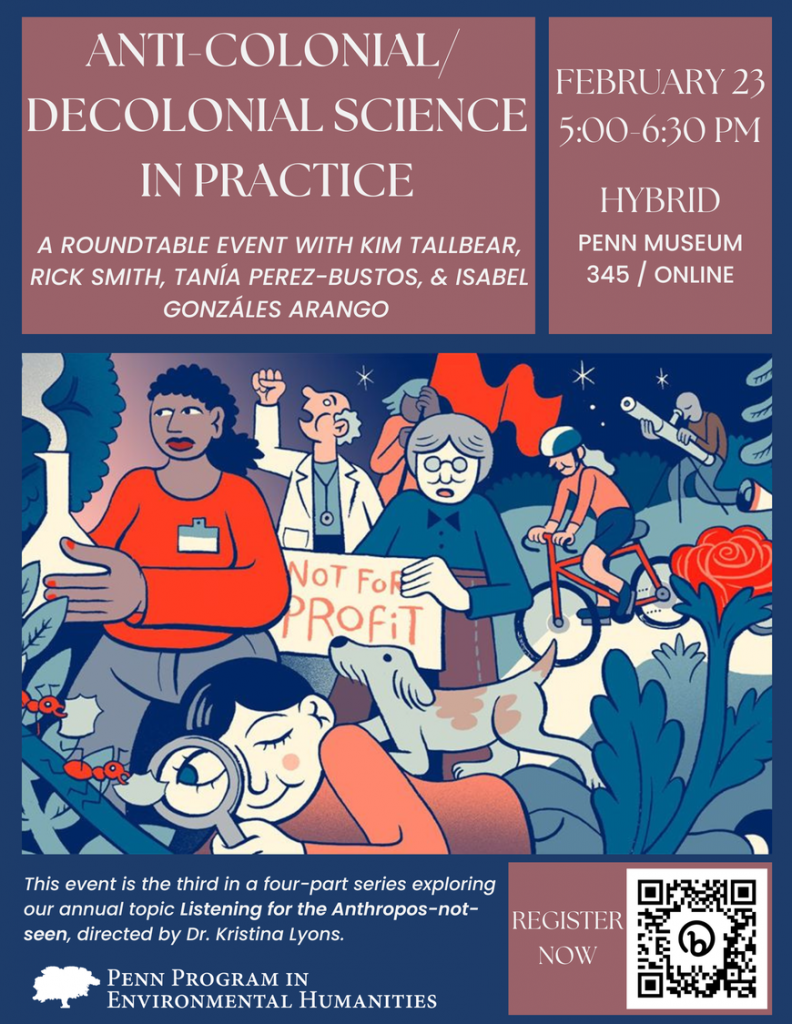 Penn Summer Abroad (App deadline 3/10)

Interested in studying abroad but don't want to be away from Penn for a full semester?

Summer 2023 programs include:

Each trip has its own flavor and focus.  Hone your language skills in Madrid, Florence or Tours.  Hike the Alps and learn about the geology of Alpine ecosystems.  Get to know the theater scene in London.  Watch, discuss and analyze cutting edge films at the Cannes Film Festival. 

Trip lengths range from two to six weeks and include 1 – 2 CU of coursework.

Application deadline: March 10th

(Applications are reviewed as they are received, so apply now before your preferred program fills up!)

Fellowship and scholarship opportunities available for students with financial need.

LSE's Semi-Annual Scientific Vendor Expo 3/1

For the Researchers at:

University of Pennsylvania

Houston Hall, Hall of Flags

3417 Spruce Street

Wednesday, March 1, 2023 • 11:00AM – 1:30PM
55+ Vendors | Free Lunch | T-Shirts, Gifts & Raffles!

Pre-Register & Avoid Registration Line:  Click Here

Bring your lab to enjoy the upcoming event and visit with the vendors we have listed below. Everyone will have a chance to play to win free door prizes, the new Lab Warrior T-Shirts or gift cards before you leave. Skip the line at the Registration Booth by Pre-Registering for the event:  Click Here to Pre-Register!If you have any questions at all, please feel free to reach out to us. We look forward to a great Semi-Annual Research Supplier Product Show on campus!

Exhibiting Companies

This event is sponsored by inTEST Thermal Solutions and Genevoyager. Make sure to stop by their booths along with the companies listed below:

ABclonal Technology
Across International
Azenta Life Sciences
Azer Scientific
B Medical Systems
Biohippo Inc
BioLegend
BMG LABTECH
Bon Opus Biosciences
CELLTREAT Scientific Products
Charles River Laboratories
CravitySci-RWD
Electron Microscopy Sciences
Emulate
Fine Science Tools
Focus Biomolecules
GemPharmatech
Genesee Scientific
Genevoyager
GenVault
Gold Biotechnology
Haier Biomedical
HistoWiz
Integrated DNA Technologies
inTEST Thermal Solutions
Jackson ImmunoResearch Laboratories, Inc.
Jade Scientific
Leinco Technologies
Medchemexpress LLC
Meso Scale Discovery
MIDSCI
MilliporeSigma
Miltenyi Biotec Inc.
Mirus Bio
Neta Scientific, Inc.
PeproTech, part of Thermo Fisher Scientific
PHC Corporation of North America
PreciGenome
ProteinTech Group
Quartzy
Refeyn
SARSTEDT, Inc.
Shanghai Model Organisms Center
Sino Biological US, Inc.
Taconic Biosciences
The Jackson Laboratory
Thermo Fisher Scientific
Transnetyx
Vector Lab Products
VectorBuilder Inc.
VWR by Avantor
---
Scholarships
No scholarship information is available at this time.
---
Paid/Unpaid Opportunities
ESAP 2023 Residential/Teaching Assistants Application Open (Due 3/3)

ATTENTION SEAS UNDERGRADUATE AND MASTER'S STUDENTS:

LEAD, LEARN, AND EARN THIS SUMMER!!! $$$

We are now recruiting Residential/Teaching Assistants (RTA) for this summer's premier high school program: the Engineering Summer Academy at Penn!

ESAP is an intensive 3-week residential, for-credit summer program for over 200 selective high school students.

Entering our 18th year, ESAP has become a widely recognized engineering enrichment program for high schoolers, both nationally and internationally. Penn Engineering undergraduates and master's students play a vital role as RTAs. Learn more about ESAP here: https://esap.seas.upenn.edu/

Applications are now OPEN!   https://esap.seas.upenn.edu/rta/

The application deadline is Friday March 3, 2023 (however, students are encouraged to submit their applications ASAP)

Please direct any questions to: esap@seas.upenn.edu

Thank you and we look forward to your application!

Non work-study positions available at Red & Blue Engagement Center

The Red & Blue Engagement Center is looking for enthusiastic student ambassadors (both undergraduate and graduate level) who love Penn and want to connect with alumni and parents about the great things happening at the University! The center is open year-round and always hiring for the fall, spring, or summer semesters.

Students earn up to $13.50/hr with the opportunity for incentive based rewards and prizes. The center offers flexible scheduling (open 7/days a week) to allow students to work around their academic schedules.

The center is typically open:

   Sundays | 12:00 – 8:00pm

   Mondays | 6:00 – 9:00pm

   Tuesdays | 6:00 – 9:00pm

   Wednesdays | 6:00 – 9:00pm

   Thursdays | 6:00 – 9:00pm

   Fridays | 2:00 – 5:00pm

   Saturdays | 12:00 – 6:00pm

Additional hours, including late night hours (9:00 – 11:00pm) and weekday hours, are available periodically as well.

PLEASE USE THE CONTACT INFORMATION BELOW:

To apply, visit the Red & Blue Engagement Center's website at http://upenn.thecallingcenter.com

For more information, contact the Center's manager, Emma Burns at:

Email | PennCalling@gmail.com

Phone | 215.573.5231

Check out PennCalling here: https://www.instagram.com/penncalling/

Flyer: Engagement Ambassador 

FAA-sponsored Airport Cooperative Research Program's University Design Competition for Addressing Airport Needs (Ends May 12)

The FAA-sponsored Airport Cooperative Research Program's University Design Competition for Addressing Airport Needs provides an outstanding opportunity for individual students or student teams working under the guidance of faculty advisors to design solutions to real-world issues addressing our nation's airports and the National Air System.

Students win cash prizes ($3,000 for first place, $2,000 for second, and $1,000 for third place) in each of four different broad categories:
Airport Operation and Maintenance
Airport Management and Planning
Airport Environmental Interactions
Runway Safety/ Runway Incursions/Runway Excursions Including Aprons, Ramps, and Taxiway
Airport needs embrace many disciplines including all engineering fields, environmental science, business, data science, computer science, psychology, and many others.  A variety of multidisciplinary topics are suggested, but students can come up with their own relevant topics for their design solution.  The Competition is an excellent open-ended design project for capstone courses and is also frequently used in other courses, for independent study, or as a professional society student chapter project.

First-place winners present their work at an award ceremony at the National Academies of Science, Engineering, and Medicine in Washington, D.C., and also at a relevant national professional conference.  All expenses are covered.

Interaction with airport operators and industry experts is required.  The Competition provides access to experts and airport operators through its program website.

The Competition runs from August 16, 2022 to May 12, 2023.  Students can work in either or both academic semesters.  Additional information regarding the ACRP University Design Competition can be found at the Competition website located at www.trb.org/ACRP/ACRPDesignCompetition.aspx.  The updated guidelines for submission are attached and can be found at https://vsgc.odu.edu/acrpdesigncompetition/guidelines/.

The Airport Cooperative Research Program is part of the Transportation Research Board of the National Academies.  The Virginia Space Grant Consortium manages the Competition on behalf of the ACRP.

We hope you will consider this opportunity which has provided 2,706 students and 169 faculty advisors from 90 institutions with an outstanding educational opportunity immersed in real-world needs and that you will share it with other faculty or students who might have an interest.

Appy to be an M&T Summer Institute TA!

Apply to Be an M&T Summer Institute TA! M&TSI is our summer program for high school seniors interested in expanding their tech and business knowledge in a university setting. We are looking for M&T TAs to lead teams through creating a prototype and business plan in a fast-paced and fun three weeks!

Learn more about the M&T Summer Institute program on the M&T website here: https://fisher.wharton.upenn.edu/management-technology-summer-institute/

For more information, visit: http://www.myworkday.com/upenn/d/inst/15$158872/9925$41145.htmld

Summer REU Program at University of Georgia (App Due 3/15)

Summer REU Program at University of Georgia

https://engineering.uga.edu/reeu.

Modern Tools and Technologies for Food & Agriculture Production

The summer REEU program is an excellent opportunity for undergraduate students to participate in research, extension and outreach projects that focus on innovative tools and modern technologies for agricultural and food production. Students will also get opportunities for professional skills development in communication, leadership, ethics, team work and organization.

Student Background:

Students majoring in the following disciplines are encouraged to apply : Engineering (Electrical, Computer, Chemical, Agricultural, Biological), Computer Science, Data Science, Agronomy, Chemistry, Microbiology, Molecular Biology, Virology, Biochemistry, Food Science.

Financial Support
Stipend: $3000 total for the program period
Housing: $1000 total housing allowance or free on-campus housing (for external participants)
Meals: $500 total for the program period
Travel : $500 total (for external participants)
Eligibility
Sophomore or Junior in 4-year STEM degree
Cumulative GPA > 3.0
U.S. Citizen or U.S. Permanent Resident
Key Deadlines

Application Due:   March 15, 2023

Notification Date:  March 31, 2023

Program Dates:     June 1 – July 31, 2023

Internship/Fellowship: National Institutes of Health (NIH), National Institute of Biomedical Imaging and Bioengineering (NIBIB)

This employment opportunity is for a one year fellowship geared towards students majoring in computer science, computer engineering, electrical engineering, or biomedical engineering.

See PDF for more information: NIH 2023 OneYearFellowship (1)

NSF REU Summer 2023 - Automotive & Autonomous Systems Engineering in Germany & USA (App Due 2/21)

We are in the process of recruiting for the 11th cohort of the international National Science Foundation (NSF) Research for Undergraduates (REU) site on the topic of Automotive and Autonomous Systems Engineering in Germany and the USA, operated by Virginia Tech and the Technische Universität Darmstadt, Germany.

For Summer 2023, we will pay each student $6,000 and cover their travel and living expenses during this 10-week summer experience.  German language skills are not required.

For more information, click on the following:

7 NSF REU positions at Technische Universität Darmstadt, Germany:  The faculty of mechanical engineering at the Technische Universität Darmstadt continues to be top-ranked in Europe, with automotive engineering as one of their specialities.  Their 30 faculty members perform more than $50 million in externally funded research per year, funding 430 doctoral candidates.  As you recall, this is truly a top-flight program for our students to work with.

2 NSF REU positions at Virginia Tech, Blacksburg, Virginia:  Virginia Tech continues to grow and its Mechanical Engineering program continues to be ranked among the best in the USA, including in automotive and autonomous systems engineering.

The application deadline has therefore been extended to February 21, 2023 (postmarked).

For questions, email  Dr. Jan Helge Bøhn at bohn@vt.edu