SEAS Weekly 3-27-23
Jump to:
Engineering Activities | Penn Activities | Scholarships | Paid/Unpaid Opportunities
---
Academic Integrity Reminder
Please remember that all students are obligated to follow the Code of Academic Integrity. As noted, "If a student is unsure whether his action(s) constitute a violation of the Code of Academic Integrity, then it is that student's responsibility to consult with the instructor to clarify any ambiguities.
---
Words to think about this week:
"They'll tell you you're too loud – that you need to wait your turn and ask the right people for permission. Do it anyway." – Alexandria Ocasio-Cortez
---
Highlights for the Week
TODAY: Last Day to Withdraw from a Course. This is a reminder that the last day to withdraw from class is March 27, 2023.  Please talk to your instructor if you are uncertain about your status in the class. You are encouraged to talk to your faculty advisor or RAS advisors about your concerns well before the deadline.  The link to the form is:  https://srfs.upenn.edu/withdraw-from-a-course.

OPA Application now OPEN!

The application is due on 3/31/2023.

It's that time of year again! OPAs for the Class of 2027 application link is here: https://upenn.co1.qualtrics.com/jfe/form/SV_87VljgduVKtIqUu

If you enjoy mentoring and helping out new students, apply today! There are about 40 spots for all majors. Questions? Email Dr. Gwak sgwak@upenn.edu.

Student Health and CAPS Are Available for Students Remember to call first!

SHS & CAPS Website: https://wellness.upenn.edu/
Medical Services
3535 Market Street, Suite 100, Philadelphia, PA 19104
Monday through Friday: 8 am – 6 pm
Saturday: 10 am – 3 pm
Closed on Sundays
215-746-3535 (24/7)
Counseling Services
3624 Market Street, First Floor West, Philadelphia, PA 19104
Monday through Wednesday: 9 am – 7 pm
Thursday and Friday: 9 am – 5 pm
Saturday: 10 am – 3 pm
Closed on Sundays
Students can drop-in and meet with a clinician during regular business hours.
215-898-7021 (24/7)
---
Important Dates:
| | |
| --- | --- |
| Date | Event |
| March 20-April 2 | Advance Registration for Fall Term |
| March 27 | Last day to withdraw from a course |
| April 26 | Last day of classes |
| April 27-30 | Reading Days |
---
Engineering Activities
SWE Baking Night (3/28)

Join SWE for a fun baking night and enjoy some sweet treats! Open to all! Event will be March 28, 2023 from 7:00 – 8:30pm. Please fill out the RSVP: SWE Baking Night (google.com)

SWE Friendship Bracelets (4/14)

SWE X FRIENDSHIP BRACELETS! Want a fun, relaxing way to end your busy week? Come join us on April 14, at 3pm in the Quain Courtyard to make friendship bracelets! All are welcome!

RAS Academic Advising

Walk-in Advising at the Office of Diversity, Equity & Inclusion

ODEI is still offering walk-in advising in the Cora Ingrum Conference Room (enter at 211 Towne) from 11am-1pm every Wednesday. Emily Delany (eedelany@seas.upenn.edu), the Special Programs and Advising Coordinator from Research and Academic Services, would be delighted to meet with you!

P.E.S.T.L.E. Student Survey

The PESTLE staff would love to hear your thoughts and views on community engagement. We are looking to incorporate your feedback into our continued growth and expansion of the program. Please fill out the brief survey here: PESTLE survey

Thompson Chair Lecture on Excellence in Teaching: (Re)Connecting in the Classroom (4/4)

Thompson Chair Lecture on Excellence in Teaching

(Re)Connecting in the Classroom

Daeyeon Lee, Chemical and Biomolecular Engineering

Tues. Apr. 4, 4-5

Kislak Center, 6th floor, Van Pelt Library

Sponsored by the Provost's Office and the Center for Teaching and Learning, this year's Evan C Thompson Chair Lecture on Excellence in Teaching will feature Daeyeon Lee of Chemical and Biomolecular Engineering speaking on (Re)Connecting in the Classroom. As we emerge from the pandemic era, many instructors and students alike are experiencing a lack of energy, and are seeking encounters in the classroom that are transformative, rather than simply transactional. In his talk, Prof. Lee will reflect on his own evolution as a teacher, from his early focus on content delivery to his current practice of infusing classes with intrigue, storytelling and humor. Speaking from his experiences, Prof. Lee will argue that creative exchanges with our students are just as important as content coverage. He will share some of his strategies for engaging students and establishing meaningful relationships while also maintaining high academic standards. He shows that taking time to connect with each other socially and emotionally is an essential part of revitalizing our intellectual culture and community. The talk will take place Tues. Apr. 4-5, in the Kislak Center on the 6th floor of Van Pelt Library. A reception will follow.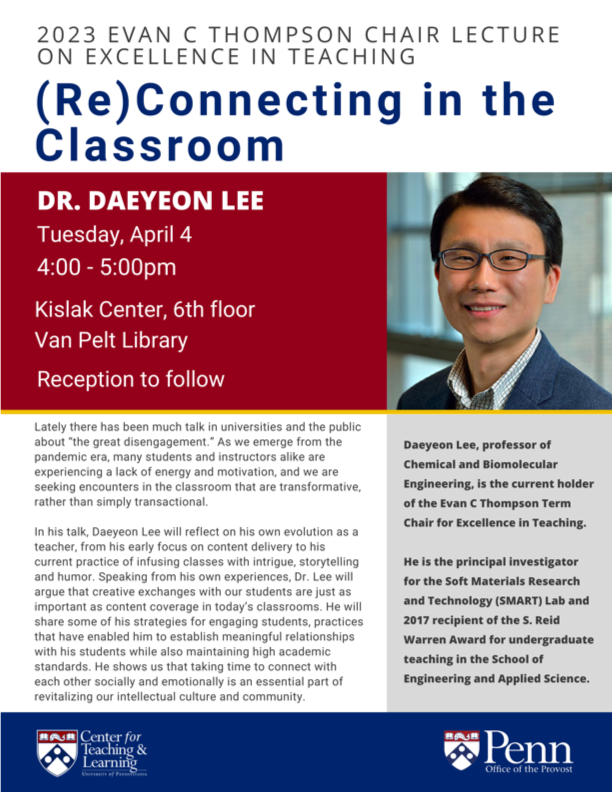 ---
Penn Activities
SRFS Financial Aid Workshops

Student Financial Aid and Financial Wellness @ Penn are partnering to host a series of workshops for undergraduate students who have questions about how to complete their financial aid application. Workshops will include a short presentation on application basics and financial aid counselors will be available to provide one-on-one assistance.

Click the links below to register for an upcoming workshop:

All workshops will be held in the SRFS Student Service Center in the lobby of the Franklin Building at 3451 Walnut Street. Food will be provided.

Students who attend one of these sessions and submit their financial aid application by the deadline (April 15) will receive a sweatshirt from the Penn Bookstore.

Spring 2023 Career Fairs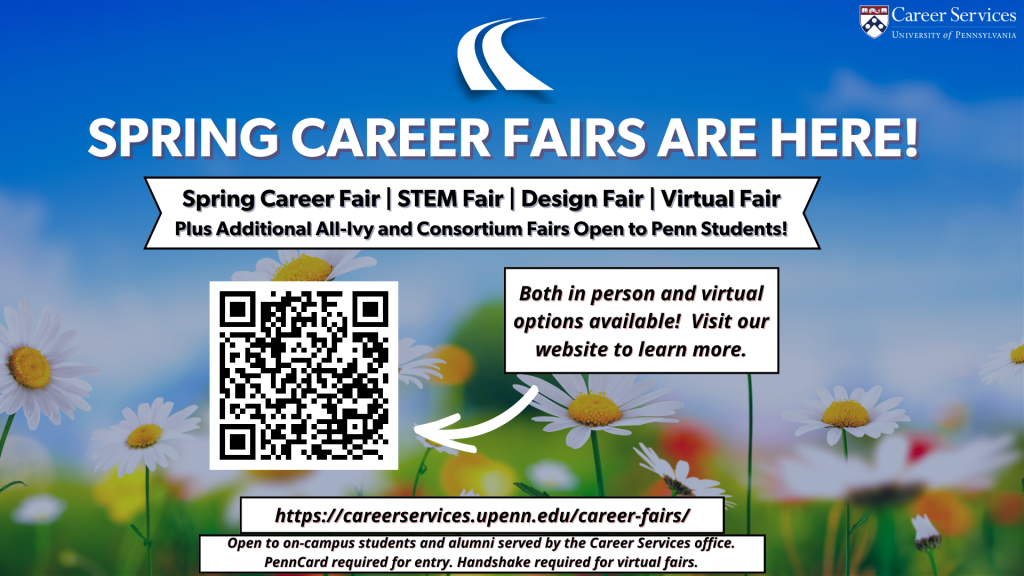 Spring Career Fairs are here! Visit Career Fairs – Career Services | University of Pennsylvania (upenn.edu) for more information.

Student iCare training 4/1

Please see flyer below for more information on Wellness at Penn's upcoming

i care training for students.

It will be held on

Saturday, April 1, 2023, from 1 – 4 pm 

in Houston Hall, Ben Franklin Room. Students must register in advance, and can do so here: 

register for i care training

. Lunch will be provided for all participants, and prized will be raffled!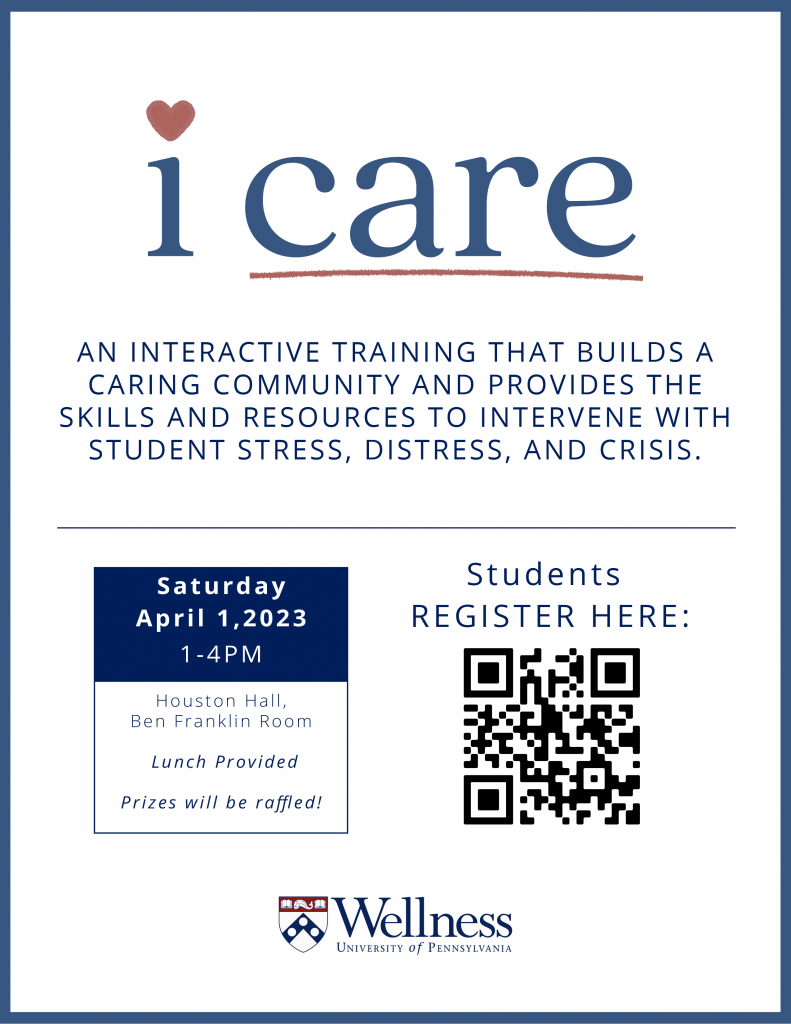 ---
Scholarships
No Scholarship information is available at this time.
---
Paid/Unpaid Opportunities
Non work-study positions available at Red & Blue Engagement Center

The Red & Blue Engagement Center is looking for enthusiastic student ambassadors (both undergraduate and graduate level) who love Penn and want to connect with alumni and parents about the great things happening at the University! The center is open year-round and always hiring for the fall, spring, or summer semesters.

Students earn up to $13.50/hr with the opportunity for incentive based rewards and prizes. The center offers flexible scheduling (open 7/days a week) to allow students to work around their academic schedules.

The center is typically open:

   Sundays | 12:00 – 8:00pm

   Mondays | 6:00 – 9:00pm

   Tuesdays | 6:00 – 9:00pm

   Wednesdays | 6:00 – 9:00pm

   Thursdays | 6:00 – 9:00pm

   Fridays | 2:00 – 5:00pm

   Saturdays | 12:00 – 6:00pm

Additional hours, including late night hours (9:00 – 11:00pm) and weekday hours, are available periodically as well.

PLEASE USE THE CONTACT INFORMATION BELOW:

To apply, visit the Red & Blue Engagement Center's website at http://upenn.thecallingcenter.com

For more information, contact the Center's manager, Emma Burns at:

Email | PennCalling@gmail.com

Phone | 215.573.5231

Check out PennCalling here: https://www.instagram.com/penncalling/

Flyer: Engagement Ambassador 

FAA-sponsored Airport Cooperative Research Program's University Design Competition for Addressing Airport Needs (Ends May 12)

The FAA-sponsored Airport Cooperative Research Program's University Design Competition for Addressing Airport Needs provides an outstanding opportunity for individual students or student teams working under the guidance of faculty advisors to design solutions to real-world issues addressing our nation's airports and the National Air System.

Students win cash prizes ($3,000 for first place, $2,000 for second, and $1,000 for third place) in each of four different broad categories:
Airport Operation and Maintenance
Airport Management and Planning
Airport Environmental Interactions
Runway Safety/ Runway Incursions/Runway Excursions Including Aprons, Ramps, and Taxiway
Airport needs embrace many disciplines including all engineering fields, environmental science, business, data science, computer science, psychology, and many others.  A variety of multidisciplinary topics are suggested, but students can come up with their own relevant topics for their design solution.  The Competition is an excellent open-ended design project for capstone courses and is also frequently used in other courses, for independent study, or as a professional society student chapter project.

First-place winners present their work at an award ceremony at the National Academies of Science, Engineering, and Medicine in Washington, D.C., and also at a relevant national professional conference.  All expenses are covered.

Interaction with airport operators and industry experts is required.  The Competition provides access to experts and airport operators through its program website.

The Competition runs from August 16, 2022 to May 12, 2023.  Students can work in either or both academic semesters.  Additional information regarding the ACRP University Design Competition can be found at the Competition website located at www.trb.org/ACRP/ACRPDesignCompetition.aspx.  The updated guidelines for submission are attached and can be found at https://vsgc.odu.edu/acrpdesigncompetition/guidelines/.

The Airport Cooperative Research Program is part of the Transportation Research Board of the National Academies.  The Virginia Space Grant Consortium manages the Competition on behalf of the ACRP.

We hope you will consider this opportunity which has provided 2,706 students and 169 faculty advisors from 90 institutions with an outstanding educational opportunity immersed in real-world needs and that you will share it with other faculty or students who might have an interest.

Appy to be an M&T Summer Institute TA!

Apply to Be an M&T Summer Institute TA! M&TSI is our summer program for high school seniors interested in expanding their tech and business knowledge in a university setting. We are looking for M&T TAs to lead teams through creating a prototype and business plan in a fast-paced and fun three weeks!

Learn more about the M&T Summer Institute program on the M&T website here: https://fisher.wharton.upenn.edu/management-technology-summer-institute/

For more information, visit: http://www.myworkday.com/upenn/d/inst/15$158872/9925$41145.htmld

Internship/Fellowship: National Institutes of Health (NIH), National Institute of Biomedical Imaging and Bioengineering (NIBIB)

This employment opportunity is for a one year fellowship geared towards students majoring in computer science, computer engineering, electrical engineering, or biomedical engineering.

See PDF for more information: NIH 2023 OneYearFellowship (1)

PGW & Temple University SBDC Launch 2023 Energy Innovation Lab (App Due 4/25)

PGW & Temple SBDC have launched our 2023 cohort of The Energy Innovation Lab, our small business incubator for entrepreneurs whose ground-breaking products or services have the potential to reimagine the energy sector. Applications are being accepted for our 2023 competition through April 25, 2023.

Established in 2021, The Energy Innovation Lab provides entrepreneurs with hands-on training, mentoring, and real-time feedback from SBDC business development consultants and PGW energy industry experts, as well as cash stipends of up to $30,000, to advance their innovative business concepts. Proposals are sought from entrepreneurs developing new energy-related technologies, applications, business models, software, services, and/or energy access solutions addressing (1) Energy Efficiency and Conservation; (2) Greenhouse Gas (GHG) Emission Reduction; or (3) Energy Affordability and Access.

More information on the program, application process, judges, and timelines is provided in the flyer below and on our site at incubator.pgworks.com.

Flyer with more information: The Energy Innovation Lab_2023_Final

Penn GEMS Summer Counselor Applications Open

Summer plans still up in the air? Not sure what you want to do this summer?

Join us!!!

It's that time of year again. Penn GEMS is happening this summer: June 26 – June 30, 2023, and we need counselors.

Are you going to be in Philly June 26 – June 30? Do you like to talk to young people about engineering? Penn GEMS is looking for counselors for our Penn GEMS summer camp. From June 26-June 30, middle school students will be on campus to learn more about engineering and we need your help.

Counselors are needed from 8:30am-4:30pm each day and will be paid for their time and provided lunch.

We are looking for energetic, enthusiastic, creative and fun students who like working with preteens and teens. The middle school students who are coming to this camp really look up to you and are intrigued and excited about engineering.

Please send in your resume and complete the form below as soon as possible. A resume is required. Please upload to the Google form. Once the form is received, I will be in touch with you to set up a meeting to discuss GEMS. The email we are using for GEMS communication this year is Penngems@seas.upenn.edu please send any questions to that space.

For more information about the Penn GEMS program, check out: Penn GEMS

Application form: 2023 GEMS Counselor Application (google.com)