SEAS Weekly 9-6-22
Jump to:
Engineering Activities | Penn Activities | Paid/Unpaid Opportunities
---
Academic Integrity Reminder
Please remember that all students are obligated to follow the Code of Academic Integrity. As noted, "If a student is unsure whether his action(s) constitute a violation of the Code of Academic Integrity, then it is that student's responsibility to consult with the instructor to clarify any ambiguities
---
Words to think about this week
"You can't use up creativity. The more you use, the more you have."– Maya Angelou
---
Highlights for the Week

Secular and Religious Holidays Policy In accordance with the policy "no examinations may be given and no assigned work may be required" on these specific holiday dates during the 2022-23 academic year. You can also find the 2022-23 holidays calendar on our website. The full text of the policy can also be found in the Pennbook:
*Sunday 9/25 (sunset) to Tuesday 9/27 – Rosh Hashanah (Jewish)
*Tuesday 10/4 (sunset) to Wednesday 10/5 – Yom Kippur (Jewish)
Tuesday 11/8 – Election Day (Secular)
Sunday 12/25 – Christmas (Christian)
*Wednesday 4/5 (sunset) to Thursday 4/13 (9 days) – Passover (Jewish)
No exams or assigned work may be required from the evening of 4/5 through 4/7
Friday 4/7 – Good Friday (Christian)
* – indicates holiday begins at sunset on the first date given
In addition students may request alternate arrangements for any other holiday of importance to them as explained in section 3 of the policy. Students must make these arrangements at the beginning of the semester; within the first two weeks of classes is recommended.
Penn Engineering Student Learning and Engagement (PESTLE): The goal of PESTLE is to provide an opportunity for all Penn Engineering students to engage with the Philadelphia community.  There are multiple opportunities for engagement, whether they are one-time service events or ongoing commitments, student organization activities, school initiatives, or university partnerships with local community centers.  Learn more at https://pestle.seas.upenn.edu/
Student Health and CAPS Are Available for Students Remember to call first!

SHS & CAPS Website: https://wellness.upenn.edu/
Medical Services
3535 Market Street, Suite 100, Philadelphia, PA 19104
Monday through Friday: 8 am – 6 pm
Saturday: 10 am – 3 pm
Closed on Sundays
215-746-3535 (24/7)
Counseling Services
3624 Market Street, First Floor West, Philadelphia, PA 19104
Monday through Wednesday: 9 am – 7 pm
Thursday and Friday: 9 am – 5 pm
Saturday: 10 am – 3 pm
Closed on Sundays
Students can drop-in and meet with a clinician during regular business hours.
215-898-7021 (24/7)
---
Important Dates:
| | |
| --- | --- |
| Date | Event |
| September 5 | Labor Day (no classes) |
| September 13 | Course Selection Period ends |
| October 6-9 | Fall Term Break |
| October 10 | Drop Period Ends |
---
Engineering Activities
RAS Academic Advising

New Course - ESE3600 TinyML Machine Learning for Embedded Systems

ESE3600 Tiny Machine Learning is all about taking a small computing device and enabling it with machine learning smarts.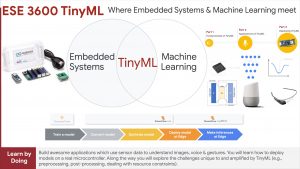 This is a very exciting course that first introduces you to the fundamentals of machine learning.

You will develop applications to process and understand images, speech and motion gestures

– All on battery-operated embedded hardware that costs less than a dollar.

This enables interactive and useful sensor-based systems to solve real-world problems.

Think of this as a first course in both machine learning and embedded systems – you don't need any background in either.

TinyML brings AI into the Internet of Things to create modern applications at the edge of the internet.

Watch the short intro lecture to learn more – TinyML Intro Lecture

Register here – https://path.at.upenn.edu/

Engineering Deans' Advisory Board Coffee Chat Sign Up & Info Session (9/7)

The Engineering Deans' Advisory Board (EDAB) is a student board that works directly with deans and faculty to implement initiatives that enrich the learning and welfare of engineers.

We meet weekly to research and develop our initiatives, which can range from leading crash courses to pushing for syllabus and grading clarity. We then present on our projects in semesterly Deans' meetings, where we meet with Dean Kumar, Associate Dean Composto, and many others!

We'd love to pair you with a current EDAB member to discuss all things related to our work, life on campus and just hang out!

The Quad-Board Info Session will be September 7 at 7:00 pm in the Wu & Chen Auditorium.

Check us out through our website: https://www.edabpenn.com/

Sign up for Coffee Chats here: https://forms.gle/rHNZcHEchCRkBHRb8

Penn Aerospace Club Interest Meeting (9/8)

Join us at the Penn Aerospace Club interest meeting on September 8 at 6 PM ET in the Wu & Chen Auditorium! Learn more about getting involved in hands-on aerospace engineering projects and in connecting with prominent industry leaders in aviation. For more information, sign up for our mailing list here: http://eepurl.com/bDom5T
---
Penn Activities
Penn Abroad Fair (9/9)

The Penn Abroad Fair will be Friday, September 9th from 11:00 am – 2:00 pm at the Perry World House. For more information click on the flyer below!

Journeying into Civil Rights History with Herman Beavers and Bryan Stevenson (10/6 - 10/9)

Penn's inaugural Alumni Civil Rights Trip will happen this fall (October 6-9, 2022). This program was modelled from a program GIC has been offering students for 25 years.

Participants who choose this trip will have the wonderful opportunity to journey with Dr. Herman Beavers as the faculty host and Sherisse Laud-Hammond as the staff host from Alumni Relations. An additional highlight will be Bryan Stevenson, Founder of the Equal Justice Initiative, who will speak about his work with the Equal Justice Initiative. This is a thought-provoking experience for those eager to delve into history and movement work in the South.

For more information and instructions on how to sign up, please click on the following flyer: Alabama 2022 TOUR Brochure

Entrepreneur in Residence: Stuart Weitzman (10/26)

Calling All Entrepreneurs: Join an exclusive program with award winning designer and footwear icon Stuart Weitzman (W'63), Founder and Chairman Emeritus, Stuart Weitzman LLC. The award-winning designer and footwear icon will host student sessions to discuss building his company, creating marketing and branding strategies, and understanding the value of design.

All Penn students can learn from Stuart about building his company, creating marketing and branding strategies, and methods of entrepreneurship by joining the Entrepreneur In Residence Program. This is an exclusive 25-person class offered only once this year.

In addition to the Entrepreneur In Residence class, four selected students will have an additional 30-minute individualized mentoring session in the afternoon with Stuart Weitzman. Due to limited space, mentoring sessions will be highly selective.

Past student testimonial:

"The conversation was guided carefully as it was clear he spent time contemplating what's the best use of time and what content would be most relevant for us."

Reach out to Ember Bennett (emberb@design.upenn.edu) with any questions. For more information, visit https://www.design.upenn.edu/eir

Fall GSE Course Options: 'Applied Qualitative Method in Human Development Research' and 'Personality and Social Development

These courses (Applied Qualitative Methods in Human Development, a Qualitative orientation to Intervention Science or Social Program design also highlighting lesser known approaches to action-based research and Personality & Social Development, a human development course also applicable for non-majors– particularly those who intend to work with children, families, communities, and social networks in-and-outside of Education) are a part of the Human Development and Quantitative Methods division at Graduate School of Education and are applicable for students from various degree-levels, career concentrations, and academic interests.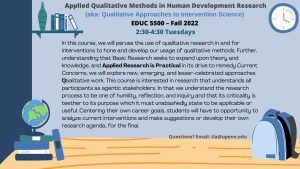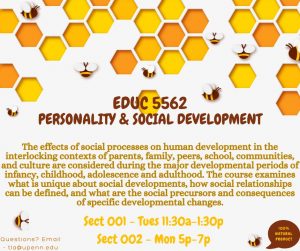 Please contact Laronnda Thompson at

tla@upenn.edu

should you have any questions or difficulty registering.
---
Paid/Unpaid Opportunities
Non work-study positions available at Red & Blue Engagement Center

The Red & Blue Engagement Center is looking for enthusiastic student ambassadors (both undergraduate and graduate level) who love Penn and want to connect with alumni and parents about the great things happening at the University! The center is open year-round and always hiring for the fall, spring, or summer semesters.

Students earn up to $13.50/hr with the opportunity for incentive based rewards and prizes. The center offers flexible scheduling (open 7/days a week) to allow students to work around their academic schedules.

The center is typically open:

   Sundays | 12:00 – 8:00pm

   Mondays | 6:00 – 9:00pm

   Tuesdays | 6:00 – 9:00pm

   Wednesdays | 6:00 – 9:00pm

   Thursdays | 6:00 – 9:00pm

   Fridays | 2:00 – 5:00pm

   Saturdays | 12:00 – 6:00pm

Additional hours, including late night hours (9:00 – 11:00pm) and weekday hours, are available periodically as well.

PLEASE USE THE CONTACT INFORMATION BELOW:

To apply, visit the Red & Blue Engagement Center's website at http://upenn.thecallingcenter.com

For more information, contact the Center's manager, Emma Burns at:

Email | PennCalling@gmail.com

Phone | 215.573.5231

Check out PennCalling here: https://www.instagram.com/penncalling/

Flyer: Engagement Ambassador