SEAS Weekly 9-4-23
Jump to:
Engineering Activities | Penn Activities | Scholarships | Paid/Unpaid Opportunities
---
Academic Integrity Reminder
Please remember that all students are obligated to follow the Code of Academic Integrity. As noted, "If a student is unsure whether his action(s) constitute a violation of the Code of Academic Integrity, then it is that student's responsibility to consult with the instructor to clarify any ambiguities.
---
Words to think about this week:
"When you have a dream, you've got to grab it and never let go." – Carol Burnett
---
Highlights for the Week
Policy of Secular and Religious Holidays: Please review Penn policy on religious and secular holidays here: https://chaplain.upenn.edu/worship/holidays/. The Course Absence Notice (CAN) in Path@Penn should be used to notify your instructors of your absence in the first two weeks of classes per article #3 of the Policy.
Approaching Academic Deadline: Add period ends on Tuesday, September 12. This is the last day to add/swap a course. Starting September 13, you will only be able to drop a course. This week is your last opportunity to shop for classes and make some decisions.
ESAF (Engineering Student Activities Fair) will: Last one in Fall 2023 is on Tuesday 9/5 from 12-3PM in Levine Lobby and Quain Courtyard.
Quad Board Information Session: Learn about what the Penn Engineering Quad Board (EDAB, ESAC, PEC, USABE) does on Tuesday, 9/5 @ 8 PM in Berger Auditorium (Skirkanich)!
Secular and Religious Holidays Policy In accordance with the policy "no examinations may be given and no assigned work may be required" on these specific holiday dates during the 2023-24 academic year. You can also find the 2023-24 holidays calendar on our website. The full text of the policy can also be found in the Pennbook:

*Friday 9/15 (sunset) to Sunday 9/17 – Rosh Hashanah (Jewish)

*Sunday 9/24 (sunset) to Monday 9/25 – Yom Kippur (Jewish)

Tuesday 11/7 – Election Day (Secular)

Monday 12/25 – Christmas (Christian)

Friday 3/29 – Good Friday (Christian)

*Monday 4/22 (sunset) to Tuesday 4/30 (9 days) – Passover (Jewish)

No exams or assigned work may be required from the evening of 4/22 through 4/24

* – indicates holiday begins at sunset on the first date given

In addition, students may request alternate arrangements for any other holiday of importance to them as explained in section 3 of the policy. Students must make these arrangements at the beginning of the semester; within the first two weeks of classes is recommended.
Student Health and Counseling Services Are Available for Students Remember to call first!

Website: https://wellness.upenn.edu/
Medical Services
3535 Market Street, Suite 100, Philadelphia, PA 19104
Monday through Friday: 8 am – 6 pm
Saturday: 10 am – 3 pm
Closed on Sundays
215-746-3535 (24/7)
Counseling Services
3624 Market Street, First Floor West, Philadelphia, PA 19104
Monday through Wednesday: 9 am – 7 pm
Thursday and Friday: 9 am – 5 pm
Saturday: 10 am – 3 pm
Closed on Sundays
Students can drop-in and meet with a clinician during regular business hours.
215-898-7021 (24/7)
---
Important Dates:
| | |
| --- | --- |
| Date | Event |
| September 4 | Labor Day (no classes) |
| September 12 | Course Selection Period ends |
| October 9 | Drop Period ends |
| October 12-15 | Fall Term Break |
---
Engineering Activities
RAS Academic Advising

Walk-in Advising at the Office of Diversity, Equity & Inclusion

ODEI is still offering walk-in advising in the Cora Ingrum Conference Room (enter at 211 Towne) from 11am-1pm every Wednesday. Emily Delany (eedelany@seas.upenn.edu), the Special Programs and Advising Coordinator from Research and Academic Services, would be delighted to meet with you!

Save the Date: Semiconductor Industry Days 10/23 - 10/24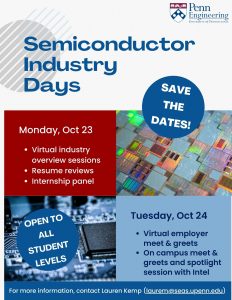 For more information, contact Lauren Kemp (laurem@seas.upenn.edu)

Tikkun Olam Makers Welcome Event at Tangen Hall! (Event 9/10; App Due 9/8)

Love to build stuff? Want a pre-professional engineering club? Don't want your projects to collect dust after you add them to your resume? Join TOM! We build assistive technology for REAL people in our community with disabilities. Fill out the short application by Sept 8th: https://forms.gle/vRiQscANWKNfuwhU8

SWE Corporate Dinner 9/11

SWE's 2023 Corporate Dinner will offer women the chance to network with professionals in different industries and learn about different employment opportunities! This is our 27th year hosting the event and this year it will be held in Houston Hall's Bodek Lounge on Monday September 11th from 6-8:30pm.

Companies at Corporate Dinner include Lutron, Capital One, Bloomberg, SeatGeek, Cruise Automation, D.E. Shaw, and tons more! The event dress code is business casual.

Purchase your ticket at the link here: https://pennswe.ticketleap.com/society-of-women-engineers-27th-annual-corporate-dinner/. After purchasing your ticket please make sure to submit your resume here to be included in our resume book for our corporate sponsors: https://forms.gle/k4hXDNBRM5niPeW47

Event Schedule:

6:00 – 6:15pm: Check in, grab hor d'oeuvres, and mingle with companies and guests

6:15 – 6:20pm: Welcome speech from Corporate Dinner Co-Directors Allison & Ananya

6:20 – 6:30pm: Greetings from Dean Vijay Kumar

6:30 – 6:35pm: Greetings from SWE President Kara Murphy

6:35 – 6:50pm: Keynote Speech from Penn Alumna Janelle Johnson Grummert, Penn '08

6:50 – 8pm: Transition to Corporate Networking Session

8:00 – 8:05pm: Thank you and closing remarks from Allison & Ananya

8:05 – 8:30pm: Wrap up networking for the evening
---
Penn Activities
ENGL/COML 3120: The Translation of Poetry/The Poetry of Translation (M 1:45-4:45)

Looking to fill your humanities requirement? Consider taking ENGGL/COML 3120 – course description and information flyer below:

In this class we will study multiple translations of famous poems by major world poets such as Shu Ting, Federico Garcia Lorca, Gabriela Mistral, Mahmoud Darwish, Yun Dongju, Aimé Césaire, and Arthur Rimbaud. The curriculum is tailored to the backgrounds of students who enroll, and all are welcome. Alternating between writing workshops and critical discussion, the course will also study the politics and geographies that inform poems. While essays on translation theory will shape our approaches, this course will center around the practice of translation. Assignments will include an oral presentation and an exchange of letters with a classmate.

Send Silence Packing (9/5)

Wellness at Penn, Cogwell, and Active Minds present: Send Silence Packing. September 5, 2023 from 9:00 am – 3:00 pm in the green space to the left of Van Pelt Library. This is an event about mental health, how to seek help, and realizing you are not alone. Content warning: this event is about mental illness and suicide. Learn more here.

Wellness and Resilience Workshops

Free workshops open to all Penn students to learn strategies and skills to help you reach your goals, manage stress, and strengthen your relationships. Each 90-minute workshop offers a fun and casual space to meet and build relationships with other Penn students. These tools have been used by leaders in medicine, business, sports, as well as colleges students. Learn more on the poster below or at: https://wellness.upenn.edu/wellness-and-resilience

Flu Clinic 10/4 - 10/6

This year's Candyland-themed Flu Clinic<https://wellness.upenn.edu/events/flu-clinic-2023> will take place over three days: Wednesday and Thursday, October 4-5, from 10 a.m.–6 p.m., and on Friday, October 6, from 10 a.m.–4 p.m. It will be held in the Gimbel Gymnasium, at Pottruck Health and Fitness Center (3701 Walnut Street). The flu clinic is free and open to the University community, including students, faculty, postdocs, and staff. Penn Cards required.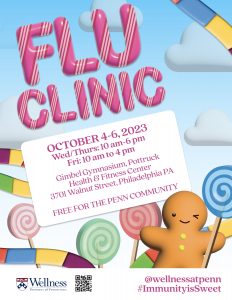 ---
Scholarships
No Scholarship information is available at this time.
---
Paid/Unpaid Opportunities
Peer Wellness Coach Recruitment (App due 9/20)